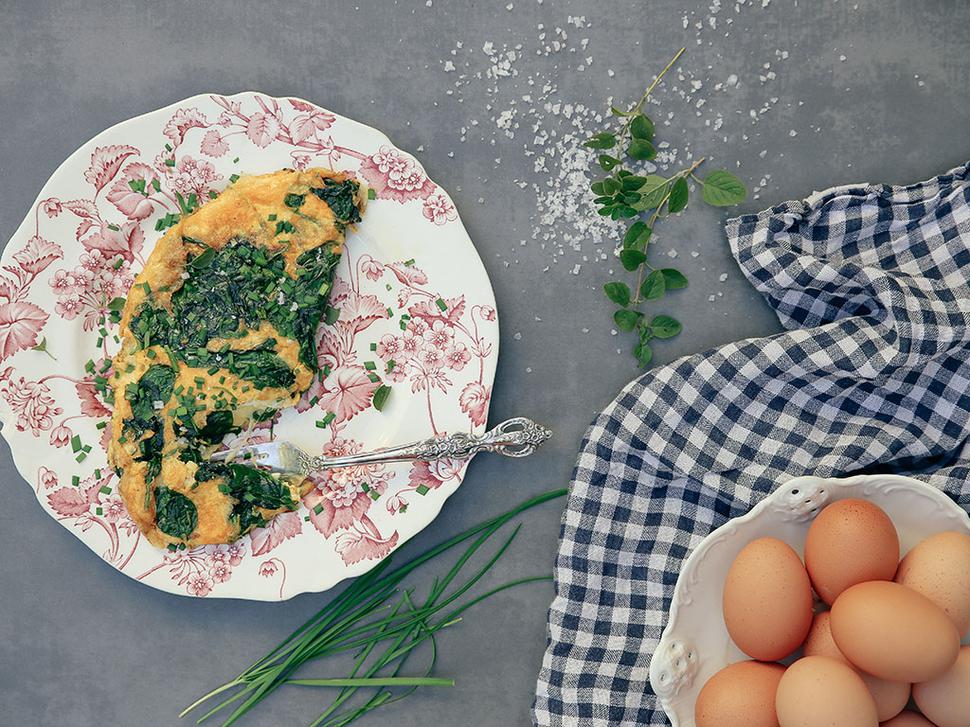 Petite Kitchen's Simple Omelette
Eleanor Ozich shares this easy meal for one
Thursday May 7, 2015
A simple omelette can be enjoyed for a quick and easy breakfast, lunch or even light dinner paired with a nicely dressed green salad. Once you have perfected the method, you can start to create all types of lovely combinations. I love incorporating plenty of herbs and a good quality cheese; in this version I have added baby spinach, chives and oozy melted mozzarella. Enjoy!

SIMPLE OMELETTE
• 2 large free-range eggs
• 1 tbsp ghee, butter or olive oil
• 2 large handfuls of baby spinach
• Handful of grated mozzarella cheese
• Finely chopped fresh chives to serve
1. Crack the eggs into a mixing bowl, add a good pinch of sea salt and freshly ground black pepper and whisk well.
2. Heat the ghee, butter or olive oil in a large frying pan over medium heat.
3. Rinse the baby spinach lightly, and then add to the pan. Cook for a minute or so until softened.
4. Add the eggs, swirling the pan around to spread the egg mixture evenly.
5. When the omelette begins to cook and firm up, but still has a little raw egg on top, sprinkle the grated cheese over.
6. Using a spatula, carefully lift up the edges of the omelette and fold it over in half.
7. Cook for a further minute or two, then when the bottom starts to turn slightly golden, carefully slide the omelette on to a plate.
8. Sprinkle with fresh chives and serve straight away.
• For more from Eleanor Ozich see petite-kitchen.com
Share this:
More Food & Drink / Breakfast & Brunch