Petite Kitchen's One-Pot Pasta With Asparagus, Lemon and Basil Recipe
Try Eleanor Ozich's recipe for this easy one-pot pasta dish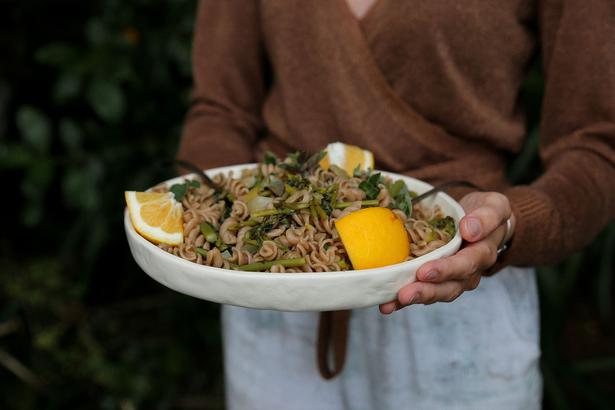 Thursday Dec. 1, 2016
ONE-POT PASTA WITH ASPARAGUS, LEMON AND BASIL
Serves 3-4

I've seen quite a few variations of one-pot pasta floating around the internet. If you haven't tried this no-fuss technique, I gently nudge you to do so, it's simply just too easy not to.
In this simple recipe, there's delicately stemmed asparagus, a few handfuls of sweet basil, a large pat of unsalted butter, and the juice of a large lemon. The dried pasta is cooked alongside the other ingredients, allowing the starch to help thicken to a meltingly delicious sauce. It's probably one of the easiest dinners I've ever made, and the variations can be endless, too.
A glug of extra virgin olive oil
6 shallots, roughly chopped
A bunch of asparagus, woody ends removed and sliced at an angle
250g dried pasta* 
One large handful of fresh oregano, roughly chopped
Two large handfuls of fresh basil, roughly chopped
Juice of one large lemon
2 tbsp butter
Flaky sea salt
Ground pepper
*I used gluten-free sorghum pasta, although most types of dried pasta will be fine, simply adjust the cooking times accordingly. If you need to add a little more water to the pot while cooking, please do so.
1. Add enough olive oil to a heavy-bottomed cast-iron pot to cover the bottom of the base entirely. Warm the oil gently over medium heat.
2. Add the shallots and asparagus, and stir to coat in the oil. Saute gently, while stirring for about 2-3 minutes.
3. Add the pasta, and cover with boiling water. Bring to a soft boil, then simmer, stirring occasionally, until the pasta is al-dente. Most of the liquid should have simmered off, leaving a light, starchy sauce.
4. Add the herbs, lemon juice and butter. Season generously with flaky sea salt, and freshly ground pepper, then toss until the pasta is coated in the sauce.
5. Serve immediately with a drizzle of extra virgin olive oil, and an extra squeeze of lemon if you desire.
Share this:
More Food & Drink / Recipes