Petite Kitchen's Recipe For Ricotta Gnocchi in Lemony Butter Sauce
Try this recipe for ricotta gnocchi in lemony butter sauce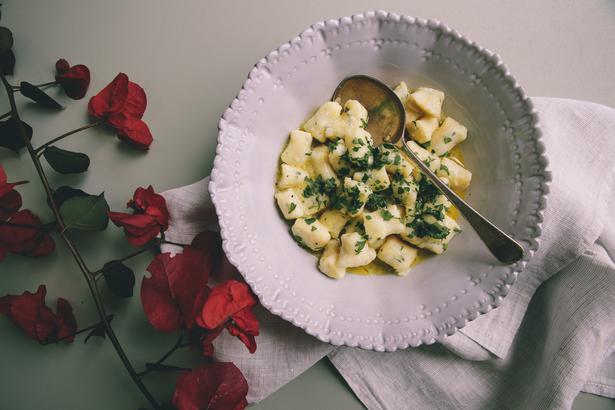 Thursday Jan. 19, 2017
RICOTTA GNOCCHI IN LEMONY BUTTER SAUCE RECIPE
Serves 4
Everything tastes better with butter — even the smallest addition has the ability to make a dish truly sing. In this simple, summery recipe, ricotta and herb gnocchi is simmered until tender, tossed in a lemony butter sauce, and then finished with a small handful of finely chopped Italian parsley. Easy to prepare, this delightful meal looks as vibrant as it tastes.
INGREDIENTS
2 cups ricotta
½ cup parmesan, grated
3 eggs yolks
A large handful of fresh chives and Italian flat leaf parsley, finely chopped
A pinch of ground nutmeg
1 Tbsp fine sea salt
1½ cups plain flour
For the lemon butter sauce:
80g unsalted butter
Juice of one lemon
A large handful of Italian flat leaf parsley, finely sliced
1. In a large bowl, combine the ricotta, parmesan, egg yolks, herbs, nutmeg and salt. Mix in the flour gradually, until a soft dough forms, be careful not to over mix.
2. Using a floured surface, divide the dough in to fist size pieces, and roll in to 2cm thick strings. Slice each string in to 2cm pieces, and dust with a little extra flour.
3. Place in the fridge to chill for about 20 minutes or so, before cooking.
4. Heat the butter in a pan, until slightly fragrant and golden. Add the lemon juice, parsley, and season with sea salt and freshly ground pepper. Swirl until combined, and then set aside.
5. To cook the gnocchi, simply cook in boiling salted water, until they rise to the top. Using a slotted spoon, transfer the gnocchi in to the sauce, ladle in to shallow bowls, and serve immediately. Sprinkle with a little extra parsley if you like.
Share this:
More Food & Drink / Recipes