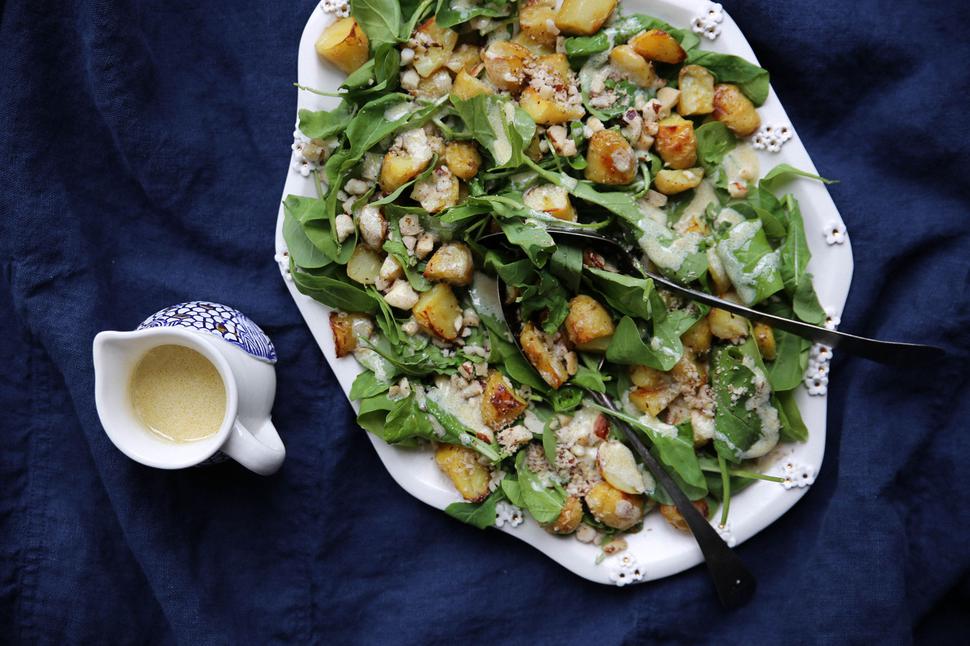 Petite Kitchen's Simple Spring Potato Salad Recipe
Eleanor Ozich shares a simple but classy seasonal potato salad
Thursday Sept. 29, 2016
Sometimes all I crave is a simple, green salad with potatoes, soft, peppery leaves and a mustardy dressing. I like to think of this salad as a classy little number, both enticing and deeply delicious. Pair it with a fragrant roast or tender grilled fish.
SIMPLE SPRING POTATO SALAD 
Serves 4 as a side
• 500g new potatoes, sliced in four
• Extra virgin olive oil for drizzling
• Flaky sea salt 
To serve:
• 3-4 large handfuls of baby rocket leaves
• ½ cup toasted nuts, crushed
For the dressing:
• 1/3 cup extra virgin olive oil
• ¼ cup white balsamic vinegar
• 2 heaped tbsp natural yoghurt
• 1 heaped tbsp dijon mustard


1. Preheat the oven to 180C.
2. Place the potatoes in a large saucepan over medium heat, and cover with water. Bring to a soft boil, and simmer until tender, about 10-15 minutes.
3. Drain the potatoes using a colander, and transfer to a large baking dish. Drizzle well with extra virgin olive oil, then sprinkle with flaky sea salt.
4. Roast in the oven until golden, about 20 minutes. Remove from the oven, and allow to cool.
5. Whisk together the dressing ingredients, seasoning with sea salt and freshly ground pepper.
6. To serve, gently toss the rocket leaves with the roasted potatoes, then pile on to a serving platter. Drizzle over the dressing, and sprinkle with roasted, crushed nuts. 
Share this:
More Food & Drink / Recipes