Vanilla Bean Custard With Honey-Poached Strawberries
The poached strawberries are soft and sumptuous, a lovely contrast to the creamy custard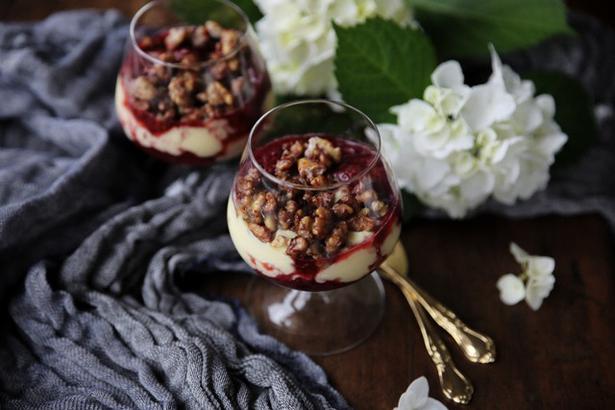 Thursday Dec. 15, 2016
VANILLA BEAN CUSTARD WITH HONEY-POACHED STRAWBERRIES RECIPE
Serves 4

In early summer, there is often a punnet or two of fresh strawberries in our kitchen. This recipe is a good end for those you might be wondering what to do with. Poached in a little water and honey, the fruit becomes soft and sumptuous, a welcome contrast to the creamy, vanilla bean custard. The strawberries also make a lovely sauce for yoghurt or vanilla icecream. This dish can be prepared earlier and kept in the fridge, simply bring to room temperature before serving.

For the candied walnuts
1 Tbsp butter or coconut oil
1 Tbsp honey
2 cup walnuts, crushed
Pinch of sea salt

For the honey-poached strawberries
3 cups fresh or frozen strawberries, hulled
¼ cup water
2 Tbsp honey

For the custard
4 egg yolks
¼ cup honey
2 tsp cornflour, potato starch or tapioca flour
1½ cups milk
1 cup double cream
1 tsp pure vanilla extract

1. To make the candied walnuts, gently warm the butter or coconut oil and honey over low heat. Add the walnuts and sea salt, then stir to coat. Continue to cook, while stirring, until fragrant, about 1-2 minutes. Remove from the heat and allow to cool.

2. Place the strawberries, water and honey in a small saucepan over medium heat. Bring to a soft boil, and simmer for 15 minutes or so, until soft and tender. Allow to cool.

3. Whisk together the egg yolks, honey and cornflour in a bowl until well combined.

4. Combine the milk, cream and vanilla in a saucepan over low–medium heat. Bring almost to the boil, then reduce the heat to low.

5. Carefully pour in the egg mixture, whisking all the time with a balloon whisk. Continue to whisk over low heat for about 2-3 minutes, or until thickened. Remove from the heat and allow to cool.

6. To serve, layer the walnuts, strawberries and custard in wide-mouthed glass or jar.




Share this:
More Food & Drink / Recipes