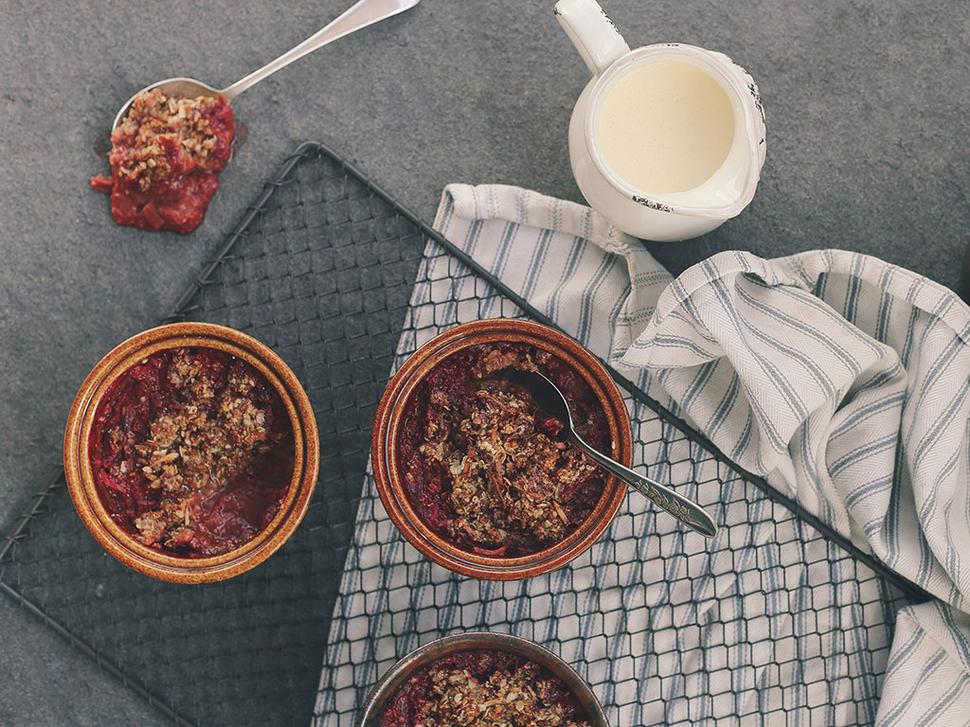 Petite Kitchen's Winter Rhubarb Crumble Recipe
This tangy rhubarb crumble from Eleanor Ozich is best served with lashings of cream
Wednesday July 22, 2015
The magical filling in this delicious crumble is made with tangy rhubarb, ginger and a hint of orange. Rhubarb goes gorgeously well with sweet and rich flavours, making this buttery crumble topping a match made in heaven. Enjoy with lashings of cream, or coconut yoghurt if you feel like something a little lighter.

RHUBARB CRUMBLE WITH A HINT OF ORANGE AND GINGER
Serves 8 
For the filling
• 500g of rhubarb, sliced into 1cm thick pieces
• 500g frozen raspberries, or berries of your choice
• 1/3 cup maple, honey or rice malt syrup
• Juice and zest of two oranges
• 3 tsp ground ginger
For the topping
• 2 cups rolled oats
• ½ cup shredded coconut
• 1 cup coconut or rapadura sugar
• 250g chilled unsalted butter, cubed
• 1 tsp ground cinnamon
• Preheat oven to 160C.
1. To make filling, combine all ingredients in a saucepan over medium-low heat. Bring to a soft boil, and then simmer for 25-30 minutes, or until tender and thick.
2. To make crumble topping, combine all ingredients in a mixing bowl. Using your hands, rub butter into oats until you have a breadcrumb-like consistency.
3. Spoon rhubarb filling into a large baking dish, or smaller individual dishes if using. Top with crumble and then pop into oven to bake for 20 minutes or until golden and bubbling around edges. Enjoy warm.

• For more from Eleanor Ozich see petite-kitchen.com 
Share this:
More Food & Drink / Desserts