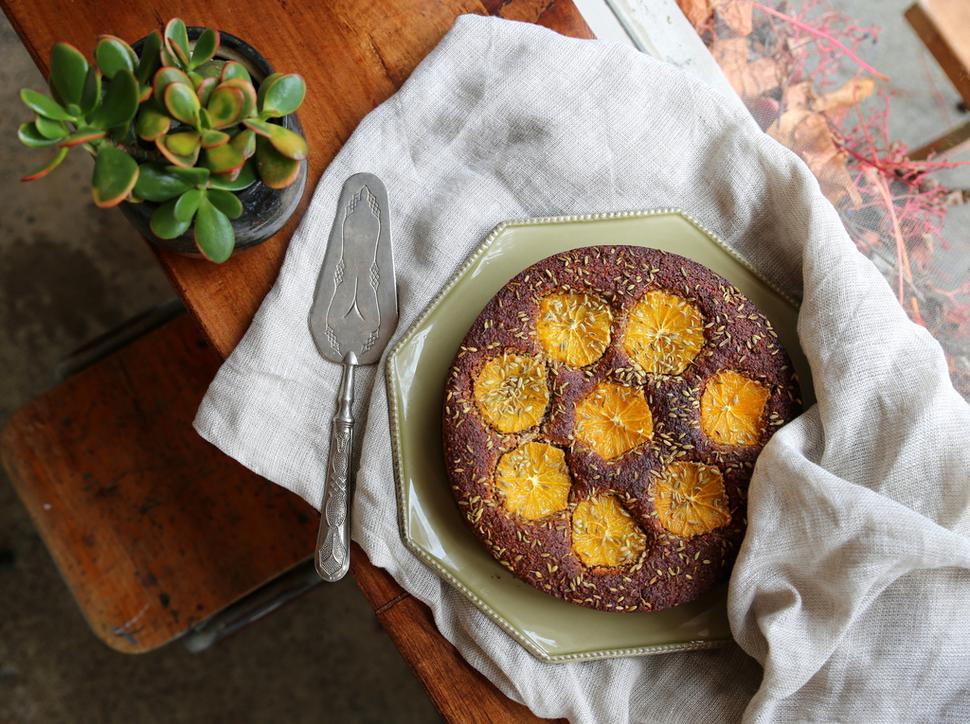 Petite Kitchen's autumn cake of hazelnut, orange and fennel seeds
An autumn cake from Petite Kitchen's Eleanor Ozich.
Thursday May 22, 2014
This gorgeous autumn cake has a moist and buttery crumb texture, and is naturally sweetened with honey, giving it a slight floral note. Beautiful served with a large dollop of tangy natural yoghurt or whipped cream.

AUTUMN CAKE OF HAZELNUT, ORANGE AND FENNEL SEEDS
Serves 8
Ingredients:
• 2 & 1/2 cups hazelnuts
• 1/3 cup melted butter or virgin coconut oil
• 1/3 cup runny honey
• Zest of 1 orange
• 3 free range eggs
• 1 tsp baking soda
For topping:
• 1 orange, peeled and thinly sliced
• 1 tsp fennel seeds

1. Preheat oven to 160C, and grease a cake tin.
2. In a food processor, add hazelnuts, and process until ground in to a dense flour. It doesn't have to be too fine, and can be a little rustic to add texture.
3. Add butter or virgin coconut oil, runny honey, orange zest, eggs and baking soda. Blend until smooth.
4. Pour batter into prepared cake tin and top the cake with the orange slices, then sprinkle over the fennel seeds.
5. Bake in oven for 45 minutes or until a skewer comes out clean once inserted.
6. Leave to cool completely before carefully inverting on to a plate.

Will keep for 3-4 days in an airtight container.
*Gluten free
*Dairy free (using coconut oil instead of butter)
*Refined sugar free
Share this:
More Food & Drink / Recipes