Petite Kitchen's coconut oil shortbread recipe
Eleanor Ozich of Petite Kitchen celebrates coconut with this rich coconut oil shortbread.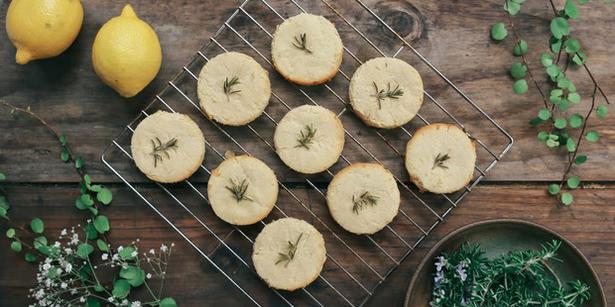 Thursday Jan. 22, 2015
These simple shortbread biscuits celebrate one of my favourite ingredients of all, the coconut.
I have used a combination of coconut flour, coconut oil, honey, lemon zest and rosemary to create a delicately sweetened and lightly fragrant cookie.
You could also use organic butter instead of coconut oil, which creates a richer version. Delicious.
COCONUT OIL SHORTBREAD WITH LEMON AND ROSEMARY
Makes 12 shortbread cookies
• 1 cup coconut flour
• ½ cup melted coconut oil, or melted butter
• 2 tbsp tapioca flour, potato starch or cornflour
• Zest & juice of one lemon
• 1/3 cup runny honey
• 1 large free range egg
• Pinch of sea salt
• Handful of rosemary
1. Preheat the oven to 160C. Grease a baking tray, or line it with baking paper.
2. In a large mixing bowl, put all ingredients except the rosemary. Mix until well combined and resembling a thick paste.
3. Dip your hands in a little water, then turn out the mixture on to a clean bench surface. Carefully knead it 2-3 times until smooth. It will be a little crumbly, but don't worry.
4. Roll out the mixture to about 1cm thick. Cut out the dough in small circle shapes using a cookie cutter or the rim of a glass. With a spatula, carefully transfer each shortbread to the baking tray. Shortbread do not spread, so don't worry if they are reasonably close together.
6. Gather up leftover dough, gently re-roll, and repeat the cutting process.
7. Top each shortbread with a small sprig of rosemary, pressed in ever so slightly.
8. Bake in the oven for 12 minutes. Remove from the oven, and leave to cool completely on the tray, otherwise they might break. These keep for 2-3 days in an airtight container, but the shortbread does begin to soften when they are a day or two old, so best to enjoy soon after baking.
*Gluten-free
*Dairy-free
*Naturally sweetened
Share this:
More Food & Drink / Recipes