Earl Grey Amaranth Cookies with Vanilla Bean
Petite Kitchen's Eleanor Ozich makes a softly sweet amaranth cookie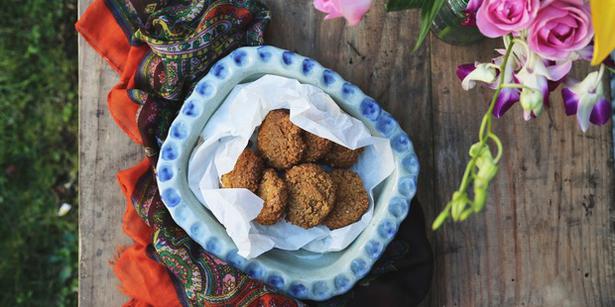 Thursday Aug. 28, 2014
These wonderfully soft and chewy cookies are infused with Earl Grey tea and sweetened with coconut sugar, lending a lovely hint of caramel. I have used Amaranth flakes as a base, which gives a nutty, slightly malty flavour. You could also use quinoa flakes, rice flakes or oats in this recipe.

SOFT AND CHEWY EARL GREY AMARANTH COOKIES WITH VANILLA BEAN
Makes around 20 cookies
• 100g butter or coconut oil, melted
• 60ml milk or coconut milk
• 2 cups amaranth flakes
• 2 Tbsp Earl Grey tea leaves
• 1¼ cups coconut sugar
• 2 tsp pure vanilla extract
• 2 cups rice flour
• 2 free range eggs
• 1 tsp baking soda
• Pinch of sea salt
1. Set the oven to 180C, and line two baking trays with baking paper.
2. Add all ingredients to a large mixing bowl, and mix until well combined.
3. Place heaped tablespoons of the mixture on the prepared tray about 4cm apart. Using your hands, flatten each cookie by half.
4. Bake for around 10-12 minutes, or until nice and golden. Leave to cool.
Will keep in an airtight container for 2-3 days.
*Gluten-free
*Dairy-free
*Refined sugar-free
Share this: