Petite Kitchen's frittata with kale
Petite Kitchen's Eleanor Ozich shares a recipe for a simple, tasty frittata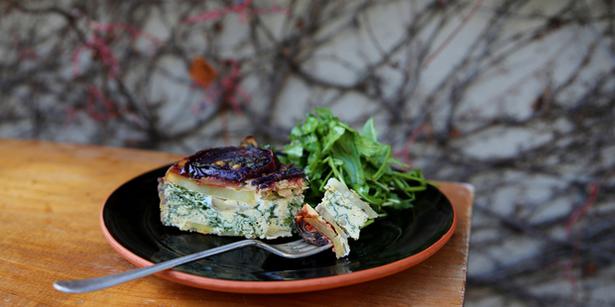 Thursday May 29, 2014
This frittata provides the perfect light lunch. Serve warm with a rocket salad, tossed with Italian parsley, chives, lemon juice and extra virgin olive oil. Simple and delightful.

CARAMELISED ONION, SAGE AND MUSTARD FRITTATA
Makes 8 generous serves
Ingredients:
• 10 free-range eggs
• 2 large potatoes or kumara
• 2 Tbsp Dijon mustard
• 2 large handfuls kale, rinsed, stalks removed
• 3 Tbsp tomato paste
• 1 large red onion, sliced into thin rounds
• A large handful sage, roughly chopped
• 2 Tbsp muscovado sugar
• Drizzle extra virgin olive oil
• Sea salt
• Ground pepper

1. Preheat oven to 180C and grease a large tart or cake tin. I prefer to use one with a removable base.
2. In a large bowl, add eggs and mustard with a good pinch of sea salt and freshly ground pepper. Whisk until well combined.
3. Slice potatoes or kumara into very thin rounds (about 5mm thick). Arrange half the slices in an even layer on the bottom of the tin.
4. Layer kale on top of potato slices and carefully pour egg mixture on top.
5. Layer with remaining potato slices, tomato paste, and rounds of onion.
6. Sprinkle over sage and muscovado sugar, and drizzle generously with extra virgin olive oil.
7. Bake 40-45 minutes or until cooked through.
8. Remove from oven and cool for at least 15 minutes before carefully transferring to a plate. Serve warm with a big handful of green salad.

*Gluten free
*Dairy free
*Vegetarian
Share this: