Petite Kitchen's gooey lemon slice with raspberries
Eleanor Ozich of Petite Kitchen shares her recipe for lemon slice.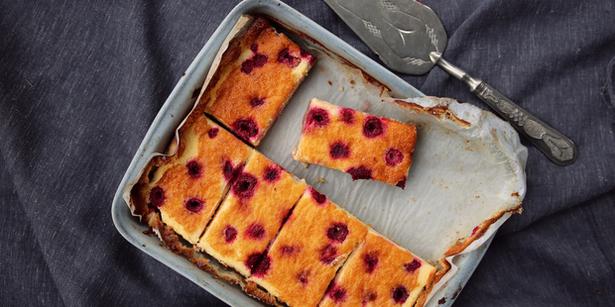 Thursday Sept. 4, 2014
Here, my recipe for a deliciously luscious lemon slice topped with tart and sweet raspberries. The shortbread-style crust is light yet slightly buttery in texture, while the topping is perfectly creamy, tangy and not overly sweet. The slice keeps really well so, if you make up a batch and serve it a couple days later, you'll still be fine. The recipe is also naturally free of gluten and dairy and is naturally sweetened with a little honey. Enjoy.

GOOEY LEMON SLICE WITH RASPBERRIES
Makes 9 slices
For the base:
• ½ cup coconut oil or butter, chilled
• 2 cups ground almonds
• ½ cup rice flour
• 2 tbsp honey
• 1 free range egg
For the topping:
• ½ cup lemon juice
• ¼ cup rice flour
• 4 free range eggs
• ¼ cup honey
• 1 cup raspberries (fresh or frozen)

1. Set the oven to 180C, and line a slice tray with baking paper.
2. Put all base ingredients in a food processor and blend until the mixture starts to come together nicely.

3. Press evenly into the prepared slice tray, and prick with a fork 4-5 times.
4. Bake in oven for 15-20 minutes, or until golden on top. 
Remove from the oven and leave to cool slightly while you prepare the topping.
Lower the heat of the oven to 160C.
5. Add all topping ingredients except the raspberries to a blender or food processor. Blend until smooth, then carefully pour on the base. Arrange the raspberries on top, then bake for 30 minutes, or until the topping is cooked all the way through.

Will keep for 3-4 days in the fridge.
*Gluten-free
*Dairy-free
*Refined sugar-free
Share this:
More Food & Drink / Recipes