Petite Kitchen's green winter soup
As we move into the warmer season, Eleanor Ozich of Petite Kitchen shares a beautiful soup recipe.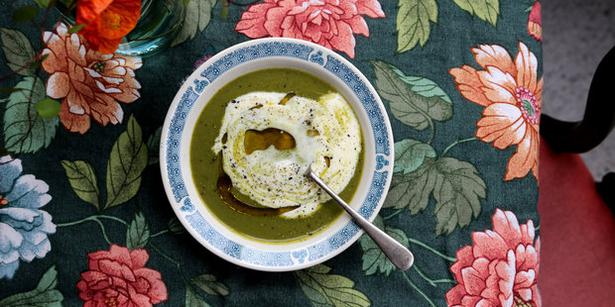 Thursday Sept. 11, 2014
Use up the last of your winter greens with this delicious soup recipe. Swiss chard, with its beautiful dark emerald leaves and thick rainbow coloured stem boasts a wonderfully earthy and deep flavour in this lovely soup. Perfect when paired with a hint of preserved lemon and a little dash of cream right before serving. This recipe also works well using kale, cavalo nero, spinach or silverbeet.

GREEN SOUP OF CHARD, PRESERVED LEMON & CREAM
Serves 4
• A large bunch of rainbow chard, roughly chopped
• 2 Tbsp butter or olive oil
• 1 onion, diced
• 3 cloves garlic, chopped
• 4-6 cups chicken or vegetable stock
• a small preserved lemon, finely chopped
• 1 handful of fresh Italian parsley
• Sea salt
• ground pepper
• Cream for serving
1. In a large soup pot, heat butter or olive oil over medium heat.
2. Add onion and garlic and saute while stirring until soft.
3. Add rainbow chard and cover with stock. Stir in preserved lemon.
4. Bring to boil, then simmer on low for 5 minutes.
5. Remove from heat and leave to cool slightly.
6. Season with sea salt and ground pepper
7. To serve, this soup can be left as is if you enjoy it a little rustic, or you can blend in batches if you prefer a silky smooth soup.
8. Serve with a small dash of cream, a drizzle of extra virgin olive oil, and a pinch of freshly ground pepper, if desired.
Share this:
More Food & Drink / Recipes