Petite Kitchen's Lemony Bean Salad with Sheep Feta & Mint
Eleanor Ozich of Petite Kitchen shares her recipe for a delicious bean salad.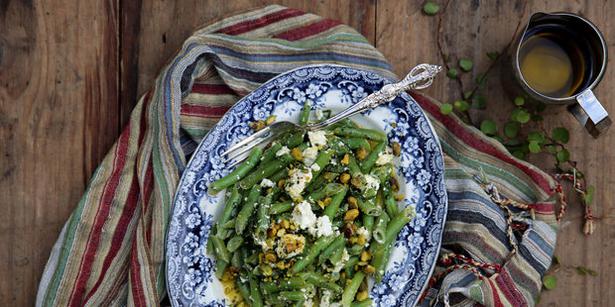 Thursday Sept. 25, 2014
Feta and mint are a classic combination. Here, I have tossed the two with blanched green beans and roasted pistachios to make a lovely spring salad.
The simple flavours in this dish have a surprising complexity, wonderful as a side dish or light lunch. I serve it with fish grilled in herb butter.
Enjoy.

LEMONY BEAN SALAD WITH SHEEP FETA & MINT. 
Serves 4 as a side, or 2 as a light lunch.
• 500g green beans, fresh or frozen
• A large handful of mint leaves, roughly chopped
• 6 Tbsp ghee, butter or olive oil, melted
• 1 clove garlic, finely minced
• 50g sheep feta - cow or goat feta also works well
• A handful of toasted pistachios, crushed
• Juice of 1 lemon
• Ground pepper
• Sea salt
1. Trim the edges of the beans, and slice at an angle.
2. Bring a large saucepan of salted water to the boil.
3. Add the beans, and cook until tender, about 3-4 minutes.
4. Transfer beans to a colander, and run under cold water immediately.
5. Drain thoroughly, then toss well with the remaining ingredients and a good pinch of sea salt and pepper.
6. Scatter the crushed pistachios on top and serve.

*Gluten-free
*Vegetarian
Share this:
More Food & Drink / Recipes