Petite Kitchen's lentil lasagne with rainbow chard and buffalo feta
Petite Kitchen's Eleanor Ozich shares her recipe for a delicious lentil lasagne.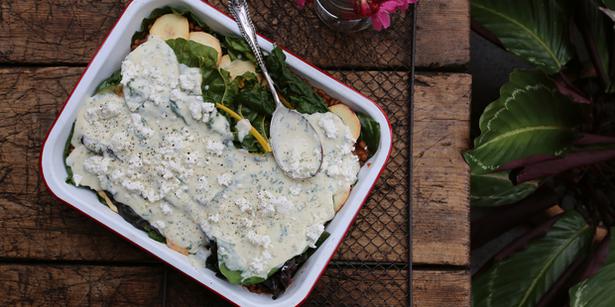 Thursday Aug. 14, 2014
This wholesome take on the traditional lasagna is packed full of vegetables. It uses rainbow chard and sweet potato instead of pasta sheets, and is topped with an incredible creamy bechamel and buffalo feta sauce. I have made this version with a rich and delicious tomato lentil filling instead of mince.
Trust me, your meat-loving family and friends won't even notice the difference!

LENTIL LASAGNE WITH RAINBOW CHARD AND BUFFALO FETA
Serves 4
For the lentil filling:
• 2 cans of lentils, drained
• 1 can crushed tomatoes
• 1 small jar of tomato paste
• 3 Tbsp olive oil
For the vegetable layers:
• 6 large sweet potatoes, peeled and very finely sliced
• Large bunch of rainbow chard, stems removed*
*you could also use silverbeet, spinach or kale
For the bechamel sauce:
• 2 Tbsp butter
• 2 Tbsp rice, corn or potato flour
• 1 cup whole milk
• Large handful of fresh herbs, roughly chopped*
• 1/4 tsp nutmeg
• 100g buffalo feta, crumbled
*I used parsley, chives and basil

1. To prepare the lentil filling, add the lentils, crushed tomatoes, tomato paste and olive oil in to a bowl. Season with a good pinch of sea salt and pepper, and then mix well.
2. Melt the butter in a saucepan over medium heat. Add the flour and stir to mix. Cook for 1-2 minutes until bubbling and golden brown. Pour in the milk, and whisk well until smooth. Add the herbs, nutmeg and a pinch of sea salt and pepper. Continue to whisk until the sauce thickens. Remove from the heat.
3. To assemble the lasagne, first add a layer of sweet potato, then a layer of chard. Top with the lentil sauce and then layer again with the sweet potato and chard.
4. Pour the bechamel sauce over the lasagne, and then sprinkle over the crumbled feta.
5. Bake in the oven for 45 minutes or until golden on top and bubbling around the edges. Leave to cool slightly before serving.
Share this: