Petite Kitchen's nourishing Italian soup full of fragrant flavours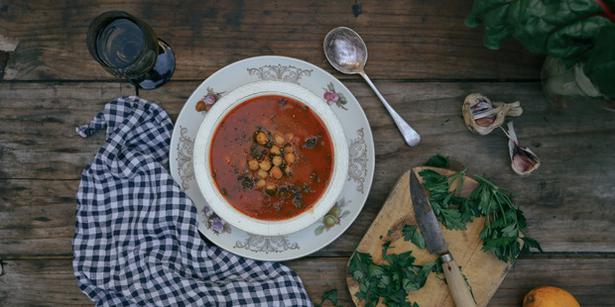 Thursday Feb. 5, 2015
A close friend of mine gave me a large bunch of homegrown rainbow chard and fresh herbs. I felt inspired to make a simple nourishing soup, warming yet full of vibrant, fresh and fragrant flavours.
In this recipe, I have combined a gorgeous combination of garlic, basil, roughly chopped chard, good-quality stock, organic tomatoes and chickpeas with a hint of preserved lemon. Brilliant with a large piece of crusty sourdough bread. 

ITALIAN RAINBOW CHARD SOUP WITH BASIL, CHICKPEAS AND PRESERVED LEMON
Serves 4 as a starter, or 2-3 as a main.
• 3 Tbsp butter, ghee or olive oil
• 3-4 garlic cloves, peeled and finely chopped
• Large bunch of rainbow chard, stems removed and roughly chopped
• Large handful of fresh basil leaves, roughly chopped
• 6 cups of good-quality vegetable or chicken stock 
• 2 cups cooked chickpeas
• 6 Tbsp tomato paste
• 1 Tbsp finely chopped preserved lemon*
• Large handful of Italian parsley, roughly chopped
• Sea salt
• Pepper
*If you do not have preserved lemon, you could add the juice of half a lemon

1. In a large heavy bottomed pot, heat the butter, ghee or olive oil over a medium heat. Add the garlic and cook while stirring until fragrant. Add the rainbow chard and basil, then continue to cook while stirring for a minute or so until softened.
2. Add the stock, chickpeas, tomato paste and preserved lemon.
3. Bring to the boil, then simmer on low for 35-40 minutes or until the liquid has reduced by half.
4. Add the Italian parsley, and season to taste with sea salt and ground pepper.
Share this:
More Food & Drink / Recipes