Raisin and Roobios Tea Bread Recipe
Eleanor Ozich of Petite Kitchen shares her recipe for a delicious tea loaf.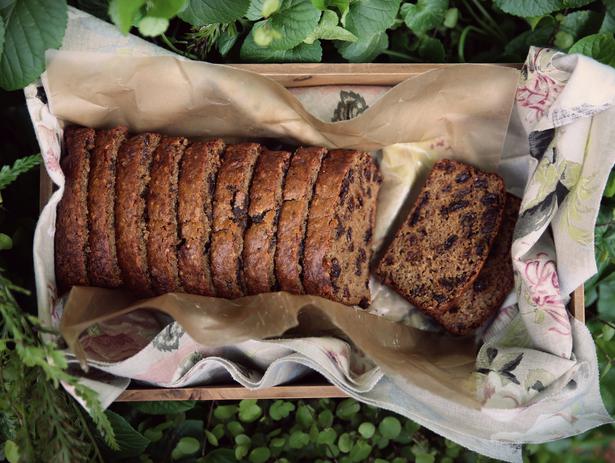 Thursday Oct. 16, 2014
Nothing is more beautiful than receiving a beautiful package of home made baking, especially when its a wholesome loaf of raisin and roobios tea bread. This lovingly made bread is the perfect gift for somebody special and is quick and easy to prepare. Wrap in brown paper and a little twine, and you have a meaningful gift that's is truly lovely.
Filled with soft juicy raisins, this loaf is naturally sweetened with banana and a little honey. It slices beautifully, and has the most incredible texture.
It also makes a great morning toast, simply smothered with butter, or topped with ricotta and homemade jam. The recipe is very adaptable; feel free to add some spices, zest or dried fruit of your choice.

RAISIN AND ROOIBOS TEA LOAF
2 cups ground almonds 
5 free range eggs
1½ cup raisins (currants & sultanas also work well)
3 rooibos tea bags
1 ripe banana
2 Tbsp honey
1 Tbsp coconut oil or butter
1 tbsp apple cider vinegar
1 Tsp baking soda
a pinch of sea salt
1. Preheat the oven to 160°C and line a loaf tin with baking paper.
2. Place the raisins and tea bags in a small saucepan, and cover with water. Bring to a soft boil, and simmer for 10-15 minutes or until all of the liquid has cooked off. Discard the tea bags.
3. Add all of the ingredients except for the raisins in to a food processor. Process until smooth. Fold in the raisins.
4. Pour the batter in to the prepared loaf tin, and smooth out evenly.
5. Bake in the oven for 30-45 minutes or until a skewer comes out clean when inserted.
6. Leave to cool in the tin. Slice in to thick pieces, and enjoy with your favorite topping.
7. Makes 8-10 slices, keeps for 3-4 days in an airtight container.
*Gluten free
*Dairy free
*Refined sugar free
Share this: