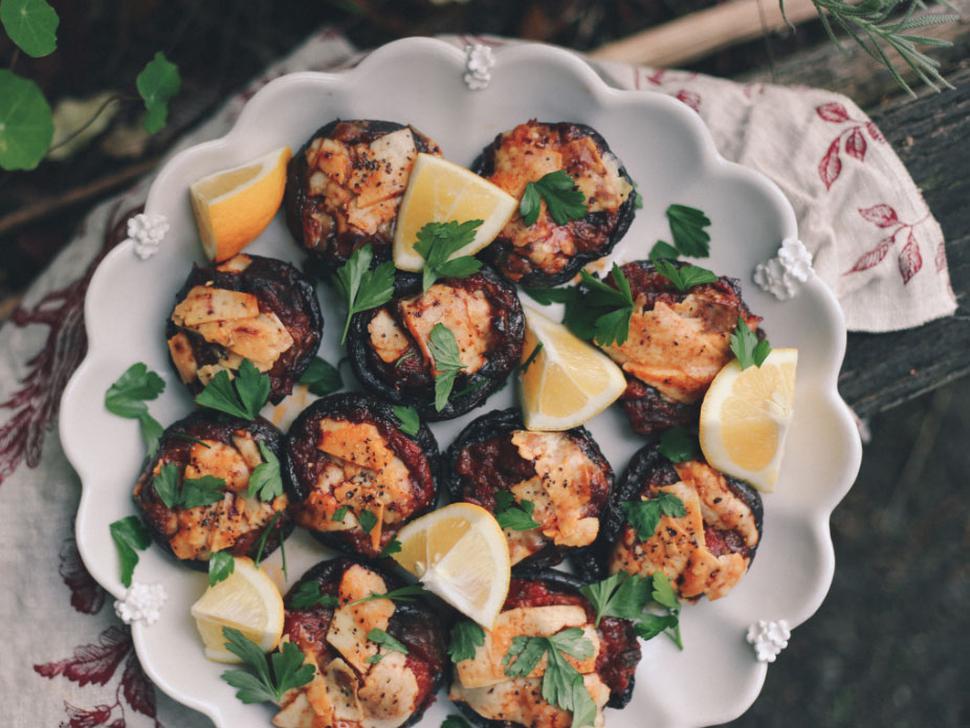 Petite Kitchen's Roasted Portobello Mushrooms Recipe
Try Eleanor Ozich's recipe for mushrooms with delicious caponata and pecorino
Thursday July 9, 2015
These earthy baked mushrooms are topped with an intensely flavourful eggplant sauce and salty pecorino cheese — it's a match made in heaven. Lovely served as a starter, on toasted sourdough bread, or alongside a simple green salad.

ROASTED PORTOBELLO MUSHROOMS 
For the caponata
• 3 tbsp olive oil
• 4 cloves of garlic
• 2 sticks of celery, finely sliced
• 1 eggplant, sliced into small cubes
• 1 can chopped tomatoes
• 1 Tbsp red wine vinegar
• 1 tsp honey or maple
• ¼ cup capers

For the baked mushrooms
• 12-14 medium sized portobello mushrooms
• A large handful of coarsely chopped flat-leaf parsley
• Extra virgin olive oil for drizzling
• 1 lemon, cut into wedges
• Pecorino cheese

1. Start by making the caponata. Add olive oil to a large saucepan over medium-low heat. Gently cook garlic and celery for 10-15 minutes until softened and slightly browned. Add remaining ingredients, along with a good pinch of sea salt and pepper. Simmer on low for 20 minutes or until thick and pulpy.
2. Preheat oven to 180C.
3. Trim ends of mushroom stalks and arrange them in a roasting dish flesh side up.
4. Spoon a heaped tablespoon of caponata into each mushroom, then top with a sprinkling of pecorino cheese.
5. Drizzle with olive oil, and sprinkle with sea salt and pepper.
6. Bake in oven for 20-25 minutes, or until tender.
7. Remove baked mushrooms from oven, squeeze a little lemon juice over mushrooms and scatter with Italian flat-leaf parsley.
• For more from Eleanor Ozich see petite-kitchen.com
Share this:
More Food & Drink / Lunch