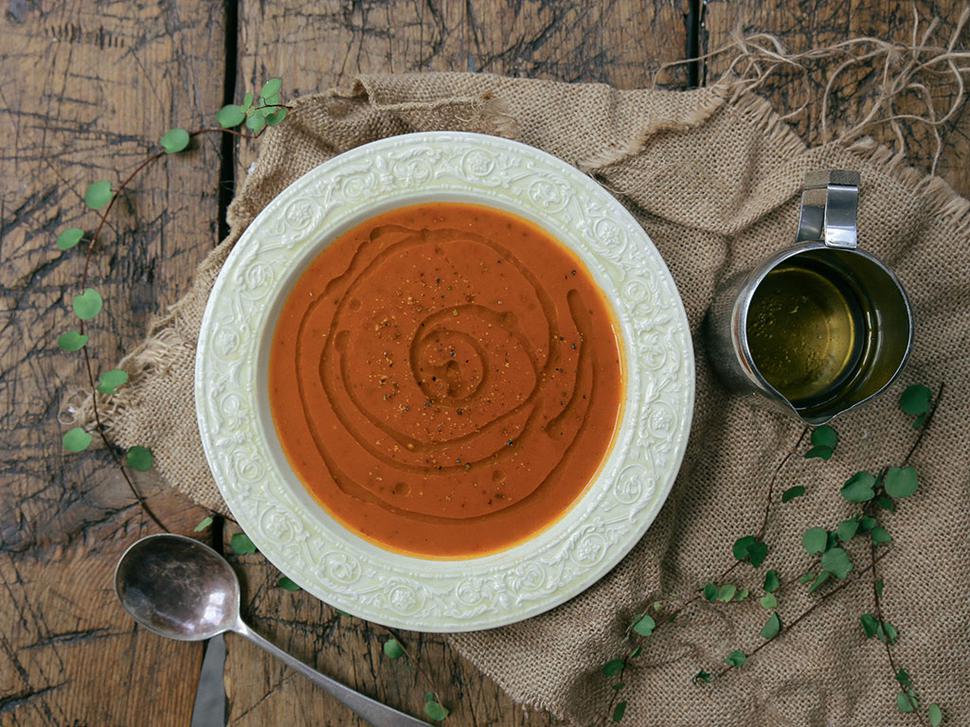 Petite Kitchen's Roasted Red Pepper Soup Recipe
The red capsicums in this recipe give it a hint of sweetness
Thursday June 4, 2015
Here is my recipe for an astonishingly beautiful and vibrant soup of roasted red peppers, thyme and a dash of creme fraiche. It has the most lovely hint of sweetness, and a touch of earthiness from the herbs.

PETITE KITCHEN'S ROASTED RED PEPPER SOUP
Serves 4 
• 4 large red peppers (capsicums)
• 6 Tbsp melted ghee, butter or olive oil
• 6 cloves of garlic, roughly chopped
• 1 medium onion, diced
• Small handful of fresh thyme, roughly chopped
• 2 carrots, roughly chopped
• 1 stick of celery, roughly chopped
• 1 bay leaf
• 4 cups good quality chicken or vegetable stock
• Sea salt
• Ground pepper
To serve
• ¼ cup creme fraiche or double cream
• Preheat oven to 200C and place a wire rack towards top of oven.
1. Place whole red peppers in a baking dish, and then using a pastry brush, lightly coat peppers in melted ghee, butter or olive oil.
2. Roast in oven for 15 minutes until blackened on top. Remove from oven and flip each pepper over. Roast for another 15 minutes until other side is also soft and blackened.
3. Remove from oven and leave to rest until cool enough to handle.
4. Using your hands, remove stem, seeds and charred red pepper skin, then set aside.
5. In a large soup pot, add remaining ghee, butter or olive oil, and place over medium heat. Add garlic, onions and thyme, and saute until soft. Add remaining vegetables, and continue to cook while stirring for 5 minutes or so.
6. Add bay leaf, red pepper flesh and stock, and then bring to a soft boil. Simmer on low for 25 minutes.
7. Leave soup to cool slightly, and add creme fraiche.
8. Use a stick blender to blend until smooth. Alternatively, blend in batches using an upright blender.
9. Season to taste with sea salt and ground pepper.
10. The soup will keep for 4-5 days in fridge, or up to 3 months in freezer.
• For more from Eleanor Ozich see petite-kitchen.com
Share this:
More Food & Drink / Lunch