Petite Kitchen's scrumptious spring vegetable slice
Eleanor Ozich of Petite Kitchen's tasty slice is perfect for a spring picnic or garden party.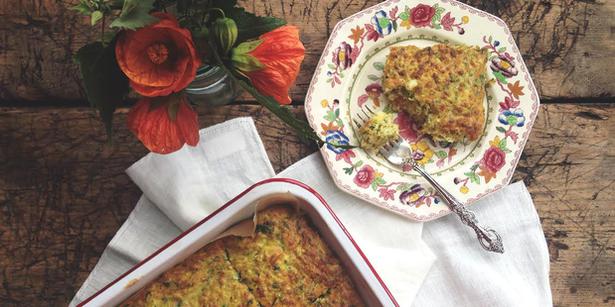 Thursday Oct. 23, 2014
When I am working from home, I quite often make this spring courgette slice packed full of fresh garden herbs. This light meal makes the most of free-range eggs, and is wonderfully simple to prepare. The leftovers also make a fast and nutritious dinner which the kids love.

SPRING SLICE WITH COURGETTE AND GARDEN HERB
Makes 6 slices
• 8 free range eggs
• 2 medium courgettes, grated
• 2 medium carrots, grated
• 1 red onion, finely diced
• 1 cup of spelt flour*
• 2 large handfuls of fresh chives, oregano and Italian parsley, chopped
• 1½ cups grated cheddar cheese
• Good pinch of sea salt
• Pinch of ground pepper
*You could use quinoa, rice or buckwheat flour to make this slice gluten-free.

1. Preheat oven to 180C, and grease a baking dish or line with baking paper.
2. Combine all ingredients in a large mixing bowl, and mix until well incorporated.
3. Pour batter into prepared baking dish and smooth out evenly with the back of a spoon.
4. Bake in oven for 30 minutes, or until cooked through.
5. Serve with salad greens tossed in olive oil, lemon juice and a little sea salt.

*Gluten-free
*Vegetarian
Share this:
More Food & Drink / Recipes