Petite Kitchen's three-ingredient walnut cake
Eleanor Ozich of Petite Kitchen creates a simple flourless cake using three ingredients.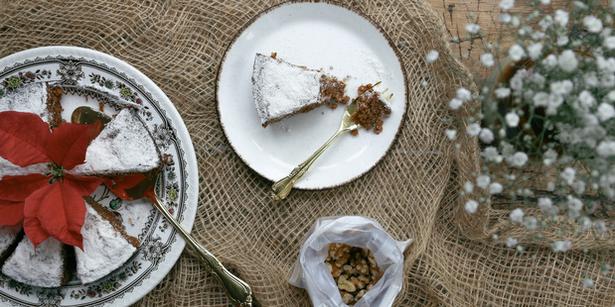 Thursday Dec. 18, 2014
This flourless walnut cake is quite possibly the simplest cake I have ever made. Incredibly moist, the recipe calls only for three ingredients, walnuts, eggs and natural unrefined sugar. I have used rapadura, although coconut sugar or muscovado would work well.

FLOURLESS WALNUT CAKE WITH THREE INGREDIENTS
Serves 8
• 3½ cups walnuts
• 4 large free range eggs
• 1 cup rapadura, coconut or muscovado sugar
Optional:
• 1-2 tsp ground cinnamon
• Grated zest of one lemon
• Coconut flour or icing sugar for dusting
1. Preheat oven to 160C, and grease or line a cake tin with baking paper.
2. Process walnuts for 1-2 minutes in a food processor until nuts resemble a dense flour.
3. In a large bowl, add ground walnuts, eggs and sugar. Mix until well combined.
4. Pour mixture into prepared cake tin, and then bake in oven for 30-40 minutes, or until golden on top, and the middle springs back slightly when touched.
5. Remove from oven and leave to cool for at least 15 minutes before carefully transferring to a plate.
6. Once cooled, dust with coconut flour or icing sugar if desired. Will keep for 4-5 days in an airtight container.

* Gluten free
* Dairy free
* Naturally sweetened
Share this:
More Food & Drink / Recipes