Petite Kitchen's Zesty Breakfast Tabbouleh Recipe
This breakfast recipe from Eleanor Ozich is a nice change from the usual suspects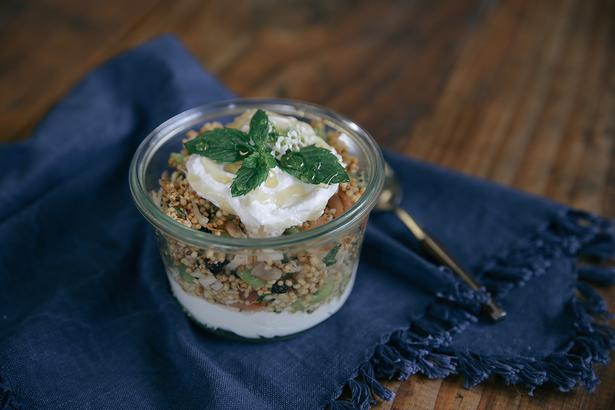 Thursday July 30, 2015
I often feel inspired to try new recipes for dinner each week, although the same cannot be said about breakfast. I wanted to create a refreshing recipe that will wake up the senses and shake up that morning routine a little.
This breakfast tabbouleh using puffed millet is light, zesty and full of great texture. I have used freshly diced kiwifruit, although it can be made with almost any fruit that is in season.

ZESTY BREAKFAST TABBOULEH
Serves 2
• ½ cup puffed millet or quinoa
• ½ cup diced kiwifruit or fruit of your choice
• ¼ cup prunes or dates, finely sliced
• ½ cup silvered almonds
• 3 Tbsp finely chopped mint
• 3 Tbsp finely chopped parsley
• 3 Tbsp lime juice
To serve
• 1 cup coconut yoghurt or natural yoghurt
• A drizzle of honey
• 2 mint leaves
1. Combine all ingredients in a medium-size mixing bowl. Toss well, then taste. Add a little more lime juice if you would like the flavour to be a little more zingy.
2. Spoon 2 tablespoons of yoghurt in to the bottom of the serving bowls then divide the tabbouleh among the bowls. Top each breakfast with 2-3 tablespoons of yoghurt.
3. Serve with a drizzle of honey and a mint leaf if desired.

• For more from Eleanor Ozich see petite-kitchen.com 
Share this:
More Food & Drink / Breakfast & Brunch