Petite Kitchen's Caramel Tarts with a Buckwheat Crust Recipe
Eleanor Ozich of Petite Kitchen shares her recipe for caramel tarts with a buckwheat crust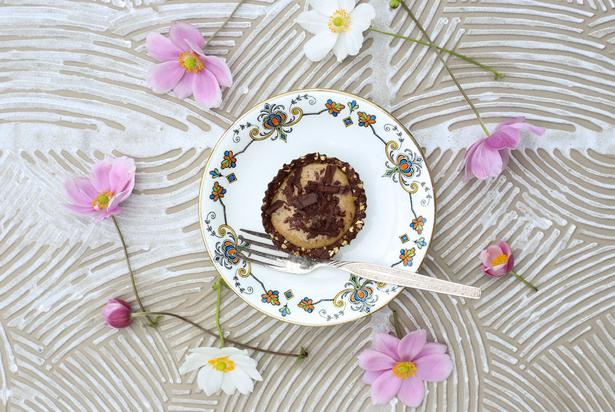 Thursday Nov. 24, 2016
CARAMEL TARTS WITH A BUCKWHEAT CRUST
Makes 10 tarts

This luscious caramel toffee filling is encased in a crisp chocolate pastry. I like a crust of mixed texture, one with a little crunch from the addition of buckwheat.
For the crust:
½ cup buckwheat groats
½ cup dates, soaked for at least one hour then drained well
1/3 cup cocoa
2 Tbsp coconut oil or melted butter
A pinch of sea salt
For the caramel sauce filling:
1 cup dates, soaked for at least an hour then drained well
½ cup nut butter (cashew or almond works well)
¼ cup coconut cream or cream
1 tsp pure vanilla extract
¼ tsp sea salt
5 pieces good quality dark chocolate, finely sliced
1. Grease 10 mini muffin tins (I like to use silicone muffin moulds, as I find the tarts easier to remove).
2. Put the buckwheat, dates, cocoa, coconut oil and sea salt into a food processor and process until well combined. Press evenly into the muffin tins, about ½ cm thick. Place in the fridge or freezer for at least 2 hours to set. Once set, remove the tarts from the muffin tins.
3. Place all the caramel sauce ingredients except for the chocolate into a blender, then blend until smooth. You might need to add a little more or less coconut cream or cream until the sauce reaches a thick silky consistency. Taste, and add a little more salt if you desire.
4. Fill each tart with salted caramel sauce, and top with the sliced chocolate.
5. Store in an airtight container in the fridge for 3-4 days or in the freezer for up to a month.
Share this:
More Food & Drink / Recipes