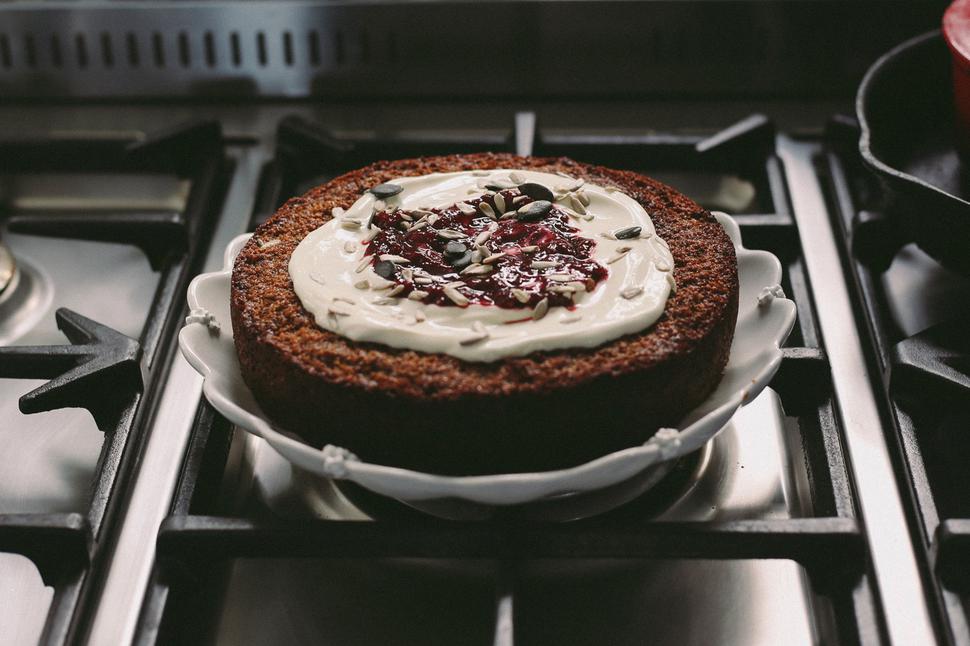 Petite Kitchen's Pear, Cardamom and Brazil Nut Cake Recipe
Eleanor Ozich of Petite Kitchen shares her recipe for this golden textured cake using seasonal ingredients
Thursday Oct. 6, 2016
The best kind of cakes are those that are seasonal. Pear, cardamom and brazil nut are a few beautiful ingredients that I have been tinkering around with. It seems they have a natural affinity for each other and are quite lovely for early spring, in this golden, textured cake recipe.
PEAR, CARDAMOM AND BRAZIL NUT CAKE RECIPE
Serves 8
For the cake:
3 free range eggs
½ cup thick natural yoghurt
½ cup coconut oil, or light olive oil
2 tsp pure vanilla extract
½ cup ground almonds
½ cup ground brazil nuts
¾ cup spelt or gluten free flour
1 tsp baking soda
1 tsp ground cinnamon
½ tsp cardamom
¼ tsp ground ginger
1 cup rapadura, coconut or light muscovado sugar
2 pears, finely diced

For topping:
1 cup thick natural yoghurt, or mascarpone
2-3 tbsp naturally sweetened jam
A handful of toasted seeds
1. Preheat the oven to 170C, and grease a 21cm cake tin.
2. In a large bowl, whisk together the eggs, sugar, yoghurt, coconut oil and vanilla. Add the dry ingredients, and mix until you have a smooth batter. Fold the finely diced pears into the batter.
3. Tip the batter in to the prepared cake tin, and smooth out evenly.
4. Bake for 45 minutes, or until a skewer inserted in the middle of the cake comes out clean.
5. Allow the cake to cool in the tin for 10 minutes or so, then carefully invert it onto a cooling rack to cool completely.
6. Top with the yoghurt, jam and toasted seeds. 
Share this:
More Food & Drink / Recipes