Where to Go: The Pie Piper & Doornuts
Meet Danielle and Suzanne Butler, the mother and daughter duo behind this new K Rd eatery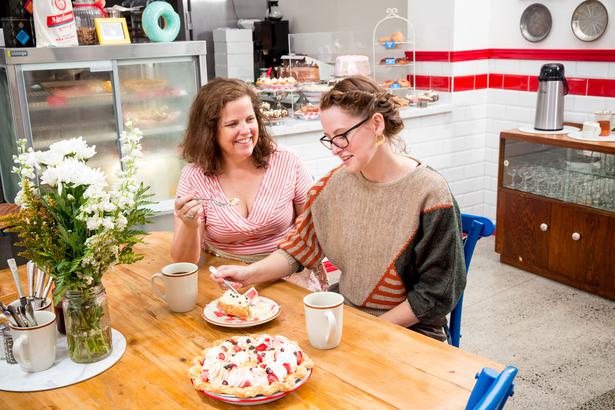 Wednesday May 17, 2017
Never has a name seemed so apt — the smell of freshly baked American-style sweet pies was wafting down the street when we called into new K Rd eatery The Pie Piper & Doornuts. That delicious aroma had lured the people there in droves and they were ordering pies by the armload.
The brainchild of self-taught cook Danielle Butler (pictured left) and her daughter Suzanne, the bricks and mortar Pie Piper store comes after years of hard work growing the business from its early days selling a few pies at local markets.
For Californian-born Danielle, making pies and the American-style yeast-raised "Doornuts" (doughnuts that can be delivered to your door) is a"passion project" and a true family effort — her mum Janet makes the preserves, husband Leal came up with the branding and Suzanne's partner Eric looked after the design. The lively pair have also found a lot of support from the local food scene, with the likes of Damaris and Renee Coulter from nearby Coco's Cantina giving them a hand along the way.
As well as the divine cakes (think salted caramel apple cake and banoffee cream pie, available by the slice, $8, or whole, $45), there is also a tempting American-inspired homestyle breakfast and lunch menu of classic favourites such as sausage and gravy ($8) and fried chicken in a biscuit ($12), served with a good old cup of bottomless Atomic filter coffee.
With its fresh flowers, welcoming dining table and fun touches like a doughnut tip jar, The Pie Piper is destined to quickly become a K Rd favourite. "When people come into our shop, we want them to feel like they're coming into our kitchen and that they are part of our friend network," Danielle explains. "Pie and happiness is our motto."
We'd say mission accomplished.
• The Pie Piper & Doornuts is at 321 K Rd, Auckland Central. Open Wednesday and Thursday 7am-6pm, Friday and Saturday 7am-8pm and Sunday 8am-3pm. Visit Thepiepiper.co.nz
Share this:
More Food & Drink / Favourite Cafes