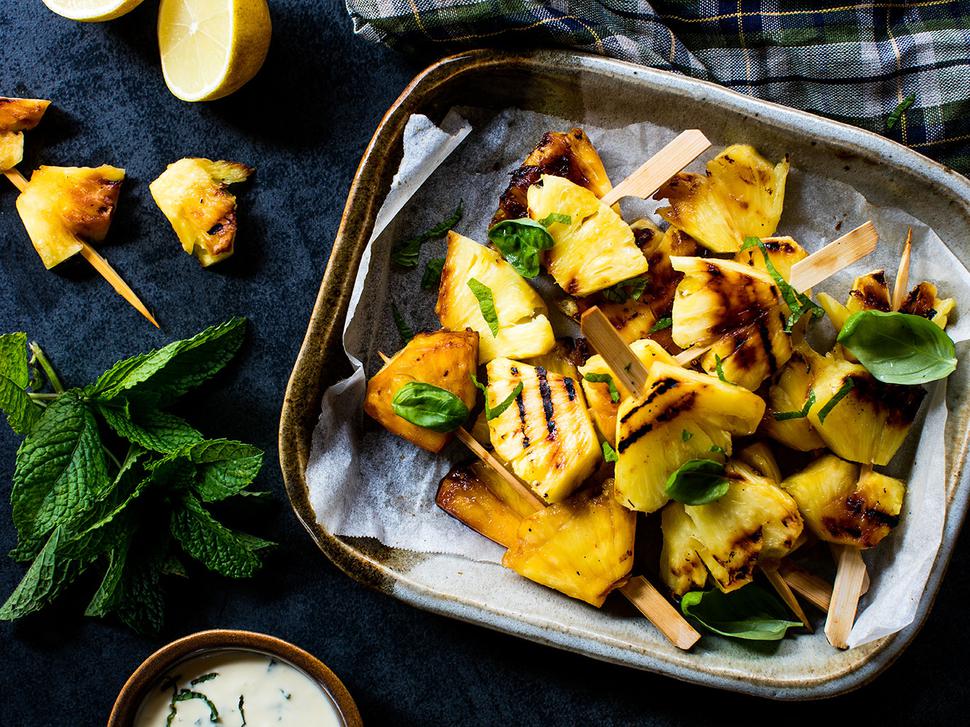 Pineapple Skewers Recipe
This dessert recipe is quick and easy
Thursday Jan. 21, 2016
Skewers make for easy cooking and eating. This simple dessert is fresh and a perfect way to finish a meal. If you don't have metal skewers soak bamboo ones in water for 30 minutes before threading to ensure they don't burn. I usually splash a bit of Cointreau over the cooked skewers and dollop the crème fraiche on top to serve.

PINEAPPLE SKEWERS
Makes 10
• 1 pineapple, peeled, core removed
• 200g creme fraiche
• 1 Tbsp honey or rice syrup
• 1 Tbsp chopped mint
• 1 Tbsp chopped basil
• Zest of ½ lemon
• Demerara sugar to sprinkle
• A splash of liquor
• Extra honey to drizzle (optional)
1. Cut pineapple into even-sized chunks. Thread 3 or 4 pieces on each skewer.
2. Place creme fraiche, honey, mint, basil and zest in a small bowl and stir well.
3. Preheat a barbecue plate to medium heat. Sprinkle skewers with sugar. Barbecue for 2 minutes each side until golden.
4. Serve warm with a splash of your favourite liquor and extra honey if using. Dollop over the creme fraiche.
Share this:
More Food & Drink / Recipes