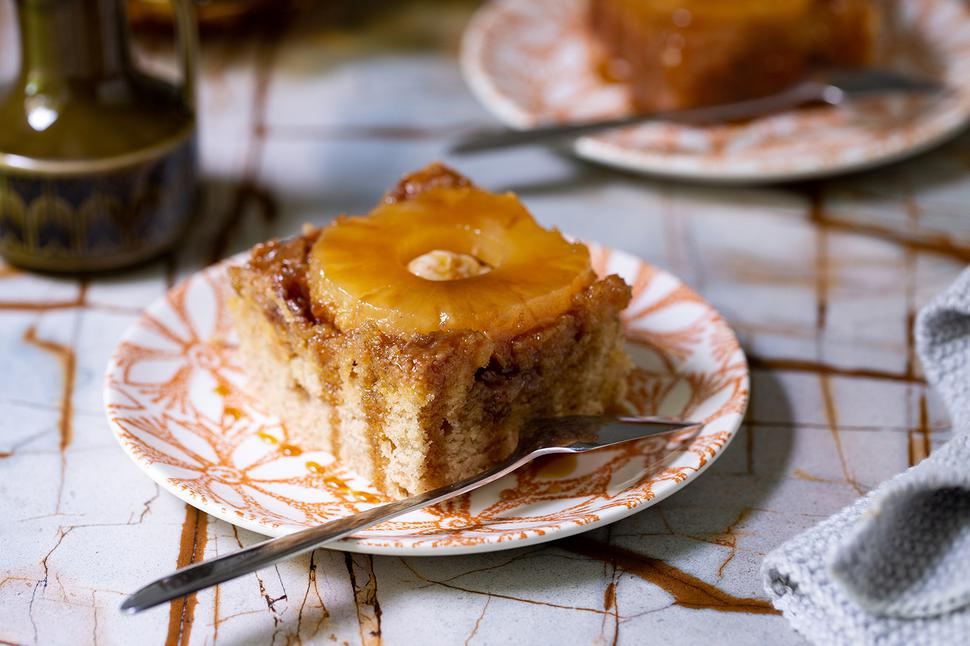 Pineapple Upside-Down Cake
A good dollop of cream on the side finishes off this wickedly sticky cake
Sunday Dec. 12, 2021
Traditionally, a red cherry goes in the pineapple ring. Here, I have used a bit of ginger and lychee. 
PINEAPPLE UPSIDE-DOWN CAKE RECIPE
Makes 1 cake
9 pieces crystalised ginger
9 lychees
9 slices pineapple
Base
80g butter
¾ cup brown sugar
Cake
80g butter, softened
1 cup sugar
2 eggs
1 tsp vanilla
1 ½ cups plain flour
2 tsp baking powder
1 tsp cardamom or cinnamon
½ tsp ginger
¾ cup milk
Whipped cream, to serve
1. Preheat an oven to 170C. Lightly grease the sides of a 22cm square tin.
2. Place a piece of crystalised ginger into each lychee.
3. For the base, place the butter into the base of your tin and into the oven for 5-8 minutes to melt. Remove and sprinkle over the brown sugar. Top with the pineapple and place a lychee into the middle of each.
4. For the cake batter, place the butter, sugar, eggs, and vanilla into a bowl and beat for 2 minutes. Add the flour, baking powder, spices and milk, beating for 3 minutes. Pour the batter over the pineapple.
5. Bake for 50 minutes until the cake is springy to touch. Remove and let sit for a few minutes before tipping carefully on to your serving plate.
6. Serve warm with a good dollop of cream.
Share this: