Pinwheels Recipe with Asparagus and Cream Cheese
These pinwheels are the perfect afternoon tea pick-me-up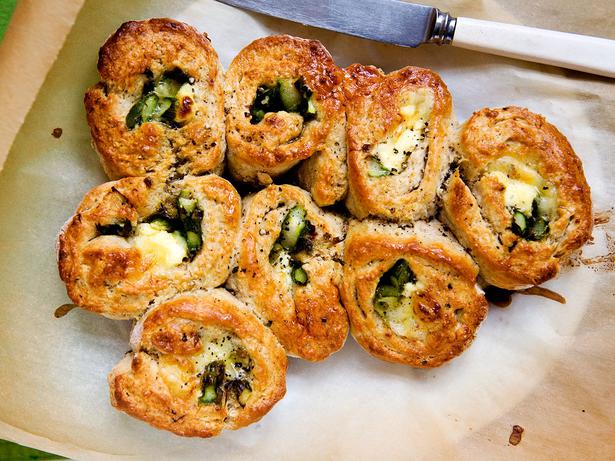 Thursday Oct. 20, 2011
PINWHEELS WITH ASPARAGUS AND CREAM CHEESE
Makes 16
16 asparagus
500g self raising flour
1 tsp salt
120g softened butter, diced
100ml cream
1 egg
100ml lemonade
100ml whole fat milk
3 Tbsp cream cheese
2 Tbsp fresh herbs finely chopped - a combination of thyme, parsley and basil
4 Tbsp tasty cheese, grated
Olive oil and freshly ground black pepper
1. Preheat oven to 220C. Cover a baking tray with baking paper.
2. Grill the asparagus for 2 minutes then turn and repeat. Let cool.
3. To make the scones, put the flour into a large bowl. Add salt and diced butter then rub with fingertips until the mixture looks like breadcrumbs.
4. Whisk the cream, egg, lemonade and milk together. Quickly stir enough of the mixture into the flour until it begins to hold together.
5. Tip out on a lightly floured bench and gently knead just enough for the dough to hold.
6. Roll out then dot with cream cheese and lay the asparagus at the end closest to you. Sprinkle over the herbs and cheese, then roll up. Slice into rounds and place close together on the baking paper before cooking for 20 minutes or until golden and crusty. Grind over a little black pepper and drizzle with olive oil.
Share this:
More Food & Drink / Recipes