Pistachio and Almond Cake Recipe
Try Angela Casley's Greek-inspired pistachio syrup cake recipe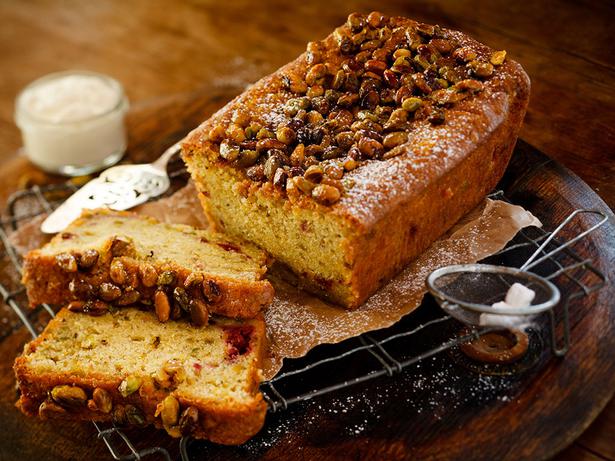 Tuesday Sept. 1, 2015
PISTACHIO AND ALMOND CAKE
Serves 12
• 220g butter, softened
• 200g caster sugar
• Zest of 1 lemon
• 4 eggs
• 100g ground pistachios
• 100g ground almonds
• 50g flour
• ½ tsp baking powder
• ½ cup frozen raspberries
Glaze
• Zest of 1 and juice of 2 lemons
• 100g sugar
• ½ cup pistachios
1. Preheat oven to 170C. Grease and line a loaf tin with overhanging baking paper.
2. Beat the butter, sugar and zest until light and creamy. Beat in the eggs one at a time until well combined.
3. Stir through the pistachios, almonds, flour and baking powder. Spoon half the mixture into the loaf tin. Sprinkle over the raspberries. Add the remaining cake mixture and smooth the top. Place into the oven for 50 minutes or until a skewer comes out clean.
4. While the cake cools in the tin, combine the zest and juice of the lemon and sugar in a small pot. Bring to a simmer for 8 minutes until it becomes syrupy. Add the pistachios and stir through. Spoon the syrup on to the top of the loaf. Allow to cool in the tin.
5. When ready to serve, slice and add a dollop of Greek yoghurt or cream.
Share this: