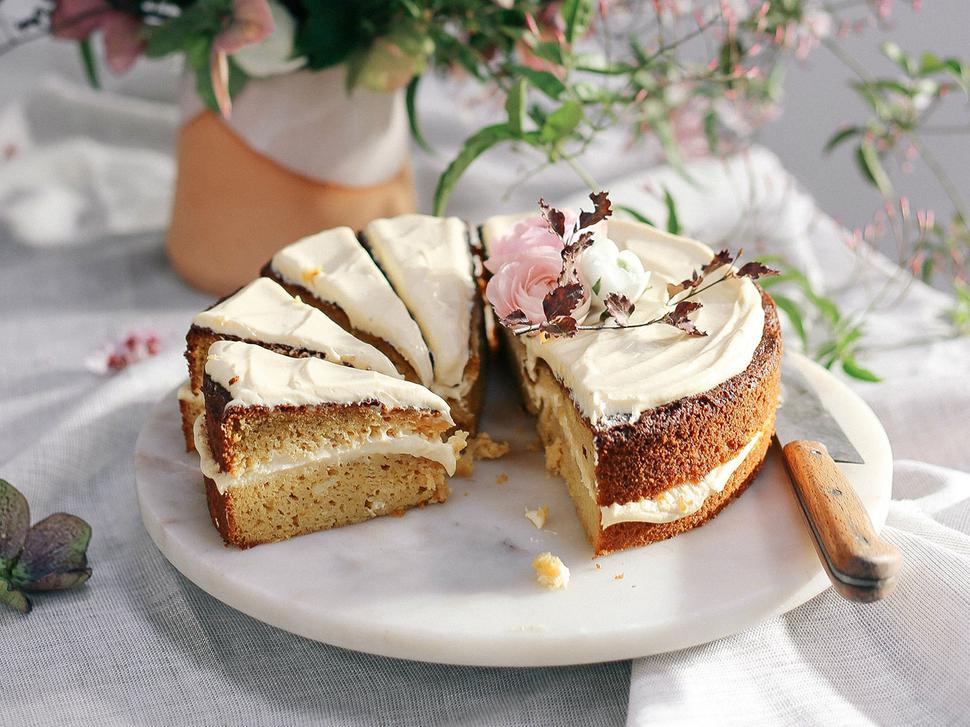 Pistachio Cake With Mascarpone Lemon Curd
A heavenly moist and nutty cake recipe smothered in a lemon cream icing
Thursday Feb. 15, 2018
This deeply moist and soft cake is scented with pistachios and sweetened with honey. A nutty cake needs something to offset its deepness, and a smothering of mascarpone and lemon curd does the trick quite nicely.
PISTACHIO CAKE WITH MASCARPONE LEMON CURD
Cake
3 large lemons
1 cup pistachios
1 cup ground almonds
¼ cup honey
½ cup coconut, rapadura or light muscovado sugar
5 free-range eggs
1 tsp vanilla extract
1 tsp baking soda

Lemon Curd
1/3 cup melted coconut oil or unsalted butter
¼ cup honey
2 tsp pure vanilla extract
4 free-range eggs
½ cup lemon juice

To Decorate
½ cup mascarpone
Fresh fruit, nuts or spray-free flowers of your choice
1. Place the whole lemons in a large saucepan and cover with water. Bring to the boil and then lower heat and simmer for 1 hour. Drain and then allow to cool. Preheat the oven to 160C and grease a 23cm cake tin with butter or coconut oil.
2. Cut the lemons in half, remove and discard the pips, and place lemons into the bowl of a food processor (skin, pith, flesh and all). Process until smooth. Add the remaining cake ingredients and process again until smooth. Pour the batter into the prepared cake tin and use a spatula to smooth out evenly.
3. Bake for 35–40 minutes or until a skewer inserted in the middle comes out clean. Leave to cool in the tin.
4. To make the lemon curd, put the coconut oil or butter, honey and vanilla into a small saucepan and melt together over a medium heat. Remove from the heat and allow to cool for a minute or so. Once cooled, carefully whisk in the eggs and lemon juice.
5. Place back over a low heat, then continue to whisk for 2–3 minutes or until the curd becomes lovely and thick. Remove from the heat. Leave to cool before using.
6. Once the cake has cooled completely, carefully transfer to a plate.
7. Put the lemon curd and mascarpone in a bowl, and mix until smooth. Top the cake with the lemon curd mascarpone icing, and decorations of your choice. Will keep for 2–3 days stored in the fridge. 
Note: To make a double layered cake as pictured, double the cake recipe, and divide the batter between two cake tins before baking. 
Share this:
More Food & Drink / Recipes