Great Places to Eat in Fiji
Angela Casley embarks on a whirlwind tour of Fiji's top food finds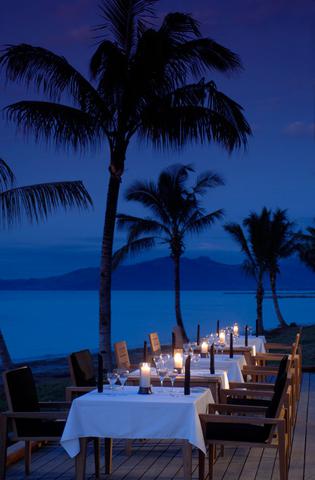 Fiji is not the first place to spring to mind when it comes to a gourmet food tour. However, four days of eating my way around some of the top resorts provided a great reminder never to prejudge. I should have thought about training for this magnificent foodie trip. Not running the streets, but stretching the stomach to prepare for a gourmet food safari like nothing I had imagined. It was living the foodie dream, with the picturesque backdrop of beautiful tropical islands.

DAY 1
We are greeted at Nadi by a balmy 27 degree temperature and whisked straight to the nearby Hilton. There is little time for rest before we head back to Nadi restaurant Taste Fiji.
Here, ex-pat Kiwi Lee Acreeman creates a degustation dinner for our group, inspired by his passion for using locally-sourced produce. We start with breadfruit chips served with his spicy salsa, followed by one delight after the next. New Zealand wine accompanied two courses. Amazingly, the only ingredient from the entire meal that is not local, is the cream for the panacotta.
As we head back to the hotel, we are caught up in the Diwali celebrations — a colourful blaze of fireworks and entertainment on the streets. What a blast of an evening to start this food tour.

DAY 2
The following morning brings an early walk along the beach and a refreshing swim. After breakfast we head to the recently expanded Nadi Market, escorted by Eci, our hostess from the Flavours of Fiji Cooking School.
We spend the morning chatting with the store holders who travel down from the mountains, then sleep the night at the market ready to sell their produce early in the morning. There's everything from beautifully-presented crabs to mangoes, tomatoes, chilli, plantain, cava, spices ... the list is endless. It's humbling to see eight mangoes or a plate of aubergine for just $1.
A cool, fresh coconut is refreshingly delicious to drink back at the cooking school. Here, Eci entertains us with stories of Fijian home life and cultural rituals. Almost all cooking is done on a wood fire outside. The mother wakes at 4am to make fresh roti daily and vegetable curries for the children to take to school for lunch. No convenience foods or microwaves here.
Today, just in case we weren't getting enough to eat, we are having two lunches. First we cook an authentic Fijian lunch, followed by an Indian meal.
From here we leave Denerau Port, on a 45-minute speed boat trip to Malolo Island and the five star, adults only, Likuliku resort. We are greeted with delicious cocktails and shown to our luxurious beachfront rooms. Full of fun and laughter, we meet Chef Ihaka Perrie, who shows us around his vegetable garden with a gorgeous smile. The garden is his passion, with 85 percent of the produce used in his kitchen coming from here.
This is a resort where the "who's who" come to holiday under the radar.
The five star degustation cooked by Ihaka and served in the private dining room had that wow factor. As did the signature crab omelette and cheese souffle with chilli mushrooms for breakfast.

DAY 3
From Likuliku we speed off to Musket Cove, for another meet and greet and another cocktail. I am beginning to fit in with this royal lifestyle. Four hundred acres of rolling hills and palm-fringed beaches mean there is no sense of crowds here.
One of the highlights of this trip is a picnic lunch prepared by executive chef Peter Becker (NZ). Laid out on a large grass mat are authentic comfortable cushions, a table made from an old door covered with banana leaves, champagne glasses and linen serviettes. The scene is set for a lunch of laughter, fun and entertainment by the humble and down-to-earth owners of Musket Cove. I could sit all afternoon listening to their stories and the history of the place.
The evening starts with another cocktail, with plantain and green mango chips, and marinated raw coconut.
The degustation dinner cooked by Peter and his team includes much of the produce from the resort farm which we had toured earlier in the day. Tastefully matched wines and a glass of Fiji Rum Coffee Liquor top off the finale dessert.

DAY 4
After a sumptuous breakfast, a helicopter flies us down the Coral Coast to The Outrigger on the Lagoon, where yet another Fijian welcome awaits. The picturesque resort is set in 40 acres of palms and lush tropical gardens with thatched bures scattered about.
We have the privilege of taking a cooking class with executive chef Shailesh Naidu. With a list of accolades as long as my arm, this is a chef who has helped to transform Fijian cooking. He is game taking us on, but I think we surprise him with our keen Kiwi attitude as we slice, dice and prepare a tasty lunch for us all to enjoy. This man has my hugest respect. Children will travel from the mountains for hours to be a part of his programme.
A massage, then time to relax. Sunset cocktails at the Kalolalo bar with a spectacular 360 degree view. Bats nestle into the trees surrounding us.
In the morning we head to the Sundowner bar and grill for breakfast. It's right by the water, with the waves lapping and punters snorkelling and paddle boarding around. No lack of entertainment at this resort — there is something for everyone.
A bumpy one hour drive through the country side back to Nadi takes us straight to local restaurant Tu's Place for lunch.
For those of you on a brief trip to Nadi/Denerau this is the place to try excellent local Fijian dishes made with love. Full of locals, a sure sign it is the place to eat. Everything is cooked from scratch — you will find Thai curries, Kokoda (raw fish) and rourou balls (made from taro leaves and herbs), or even the more conventional fish and chips.
Now for our fifth degustation in as many days, this time at the Hilton. Expat kiwi chef Clinton Webber, inspired by the earth and ocean around him, wows us with the Fijian produce, creating a seafood platter beyond belief. Clinton, who lived in Vietnam for five years, sources the cutlery and crockery from Thailand.
For the best food in Fiji, get out of the resorts, visit the markets, try the local restaurants and delis, and chat with the locals. The Fijians are putting huge time and resources into meeting world-class demands, while their infectious smiles and hospitality outshine anything I have experienced. Their amazing nature impressed wherever we went. 

• Angela Casley travelled to Fiji courtesy of Tourism Fiji. To find out more visit fiji.travel
Share this: