Great Places to Eat in Tokyo
With a passion for seafood and all things Japanese, Auckland restaurateur Nic Watt of Masu shares his whirlwind culinary adventure in Tokyo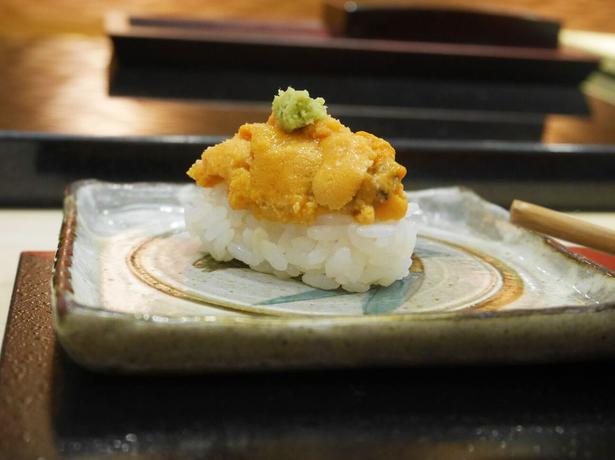 Wednesday Oct. 21, 2015
Nic Watt grew up fishing. Working in Sydney in the 1990s in the fine dining scene he was surprised to find the seafood served was nowhere near the standard he was used to catching as a child in Auckland's Hauraki Gulf. It was a life-changing realisation and the foundation for his decision to go to Japan.
At the then, newly-opened Park Hyatt Tokyo, Nic immersed himself in the kitchen culture where he was fast tracked through the traditions of a culinary world steeped in history, tradition and purpose. Next, he took his talents to London before returning to set up the award-winning Masu by Nic Watt in Auckland. Always seeking inspiration, he returned recently to Japan. Here he shares his journey.

LATE NIGHT MAGIC
My wife Kelly and I have just flown 10 hours for a rapid and super-exciting four day visit of Tokyo and Kyoto. It's a long way to travel for such a short adventure, so we know every minute has to count.
As soon as we drop our bags at Tokyo's Grand Prince Hotel Shinagawa, we look for food. Exhausted, we are are in the mood for ease — not a street food adventure or a hunt for a Michelin star sushi bar. That will be tomorrow.
The hotel staff direct us to Shimizu, one of the hotel's sushi bars. Greeted by a traditionally-dressed Geisha host, we instantly relax and feel at home. We pore over the three menus, excited by dishes we haven't eaten in a while: uni, mackerel, jack fish and shad fish — which you don't find in New Zealand waters. Like two kids in a candy shop we over-order.
We order our first chilled Junmai sake of the trip. It is served from a magnum-sized sake bottle and pours over into the masu box. This makes us smile; just like at my restaurant Masu. The word translates as abundance with the over-pouring a key part of the ceremony.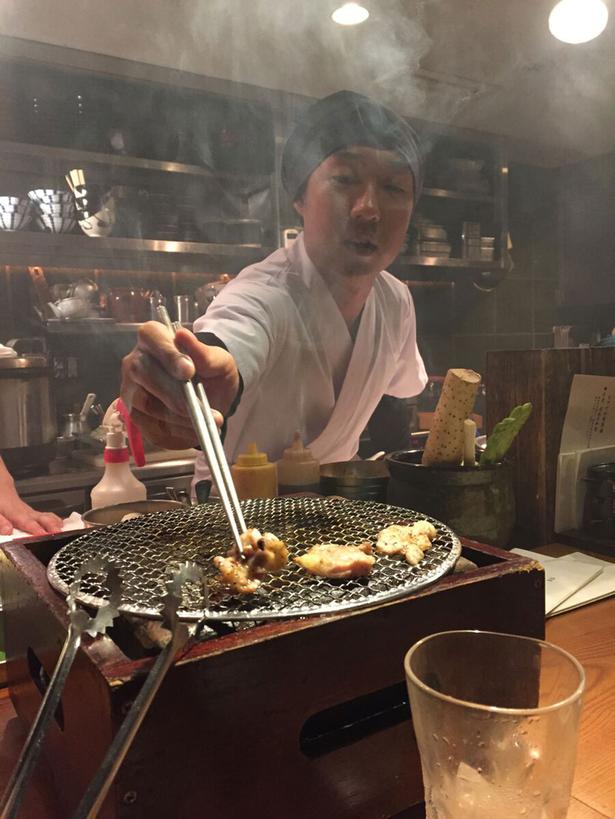 The sushi chef gives us the nigiri fresh from his hands. We observe the tradition and the trust. Mackerel nigiri is served at room temperature and, sliced in half, makes for perfect bite size pieces. Next comes the O toro (fatty tuna belly), but for us the highlight of the nigiri is the uni (sea urchin roe). It is lightly salted and sets apart the perfectly vinegared rice and fresh wasabi. Our chef guides us to eat simply, as is, with no soy. We are blown away by the simplicity and execution of this.
The next wave of hot dishes arrives. Kushiyaki chicken liver with a sprinkle of shichimi pepper is rich and nourishing. I feel it give me the nutritional strength to start tomorrow. Then the "mmm moment" — grilled myoga (ginger blossom), like a subtle grilled shallot with aromas of the ginger flower. It is a truly memorable meal, not just for the food but, as with all good dining experiences, because of the people. While we didn't know their names, I feel we had an avatar connection.

A BREAKFAST FEAST
The minute we wake, food is on our mind and Kelly suggests room service. Japanese do breakfast a little differently and, as they say, "when in Rome".
A trolley arrives within 10 minutes carrying a traditional Japanese breakfast of nine plates all beautifully presented. There is colourful, lightly-griddled salmon and snapper — washed with sake we wonder? — and freshly-made tamago (Japanese omelettes) which are savoury, moist and served with a bow of candied kelp. This is my kind of candy.
There is also a selection of oshinko (Japanese pickles) — fermented foods and, perhaps part of the secret to the Japanese people's healthy and long life span. Beside the pickles are mentaiko (cured cod's roe). This has the texture of smoked roe, which we love back at home, but with the flavour of the sea.
Next there is a bowl of steamed rice, daikon (radish), ikura (salmon eggs), hijiki seaweed with yama gobo (burdock root pickled), miso soup with kelp and aburage (tofu skin). The final dish is fresh rock melon and large black grapes. All washed down with a pot of fresh matcha green tea. What a start to the day!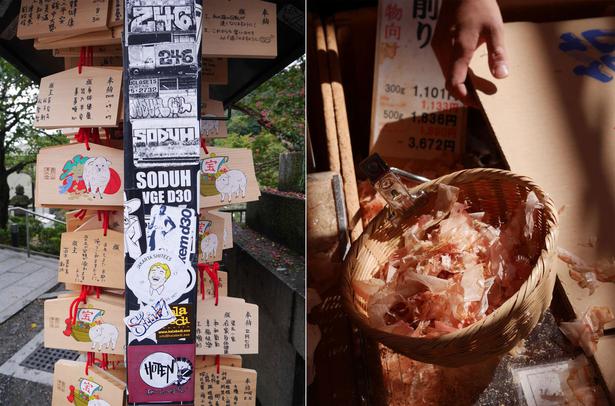 Details from Tokyo. Pictures / Supplied.
FLYING VISIT TO KYOTO
We board the Shinkansen (bullet) train bound for Kyoto, the city of temples and shrines. Kiyomizu Temple originated in 778 and sits high on a hill above the city in a stunning juxtaposition with modern Kyoto. An endless stream of Japanese women in kimonos and men in takanas pass through, stopping for photos and selfies.
We explore Gion, the centuries-old Geisha district, with its narrow, stone-paved streets and perfectly manicured trees and gardens. We are staying at Hatanaka Ryokan, a traditional Japanese-style inn. Our housemaster Okami-san greets us and tells us dinner will be Keiseki cuisine, the seasonal food of the region. I can't wait.
Our room, made from cedar wood and paper, comes with just a small, low table and two chairs with no legs. Dinner consists of five courses, each made up of two to five little dishes. We start with a bowl of colourful pickled vegetables and a little birdcage box containing fresh yuzu squid.
As it is autumn, we have maitake mushrooms and seared duck breast with barley miso. Ayu, a local fish, is rolled into cigars and fried whole, then served with sugar. Kaiseki cuisine is edible art. Okami-san stays throughout the meal, constantly topping up our sake and gently cooling herself with a small elegant paper fan.
HAT SHOPPING IN TOKYO
Almost every corner of Tokyo has a unique offering, and I suggest to Kelly we go somewhere we've never been. We jump in a taxi and head to the inner-city suburb of Daikanyamacho. It's uber-cool: little thrift shops, selling the craziest of high-end secondhand clothing, sit between beautiful boutiques.
Kelly is on a hat hunt and and we hit the jackpot at CA4LA, a store dedicated to headwear with everything from silk-lined beanies to stetsons, borsalinos and stylish custom-made felt hats. Kelly falls for a beautiful cream felt hat and I walk out with a two-tone blue borsalino and an anchor hatpin. We're set for summer and festivals. This is the best hat shop I've ever visited, up there with Paris and London.
RECIPE: Miso Eggplant with Sesame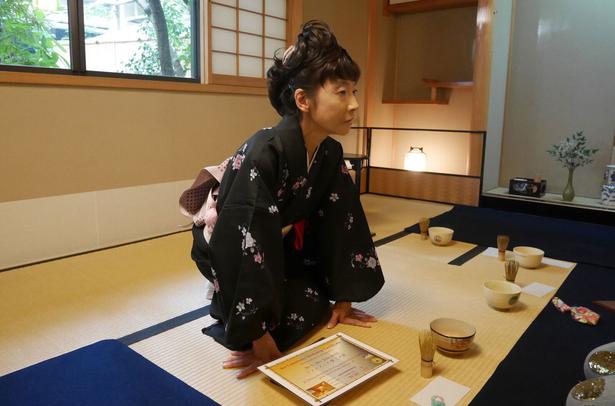 Okami-san is the housemaster of Hatanaka Ryokan, a traditional Japanese-style inn. Picture / Supplied.
Feeling peckish and in need of an energy top up, we head to Chez Lui — a perfectly pristine little French bakery. We order a couple of macchiato and two sweet potato cakes from the window display. They are sweet, fluffy, and glazed with sugar — like a dense kumara custard bun and extremely delicious.

ANYONE FOR CHICKEN SASHIMI?
I am on a mission to tick another crazy meal off my bucket list. We have a dinner date with some raw chicken. Yes, that's right, chicken sashimi at Yakitori Akira, which is famed for their uncooked bird. We follow a walkway beside a tiny inner-city river in Nakano, and enter the small restaurant. The room is dimly lit and thick with smoke, but not tobacco. It is bincho chan charcoal smoke mixed with the aroma of flame-grilled chicken. This place sells only chicken, but every part, prepared in every way. By fluke or fate we have a counter table in pole position in front of the chefs.
First up we order a chilled copper carafe of Takara Junmai — a nice balanced sake with a round, slightly nutty flavour. We navigate the menu, written entirely in Japanese, and with some pointing to our neighbours' meals, order the house chicken special which arrives in a square cedar box divided into nine small compartments. Inside we find chicken skin, a deboned neck, tskune and shiso (chicken mince in a herb leaf), sternum, spleen, some thigh meat and heart — much to Kelly's dislike. She has endured many weird and wonderful bites with me but the heart, she says, is sacred.
A kondo grill arrives in front of us filled with hot charcoal. This is a cook-yourself-kind of gig. Lucky I'm a chef, I think. I know how to cook chicken, but not like they do here.
We are instructed to cook the chicken only on one side to seal it, and then eat while still rare ... Mmmm. Okay. We take our first bites with trepidation, but then we dive right in. It is beautiful. Succulent, tender and so simple.
We can't help but notice everyone is ordering a flame-grilled thigh on the bone. Yes please, Kelly says, getting into the swing of things. Well, that thigh is barely flashed on the grill. The meat is pulled inside out of the bone and diced, then bone and all is placed on the hot sizzling plate and plonked in front of us. This is blue chicken thigh. Kelly gives me the "you first" look. As delicious as the rare chicken was, the blue thigh is tough, chewy and not worth finishing. But, hey, I can tick it off my bucket list.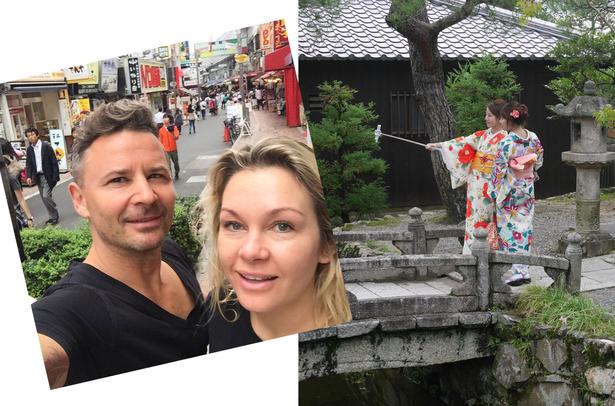 Nic Watt and wife Kelly in Tokyo. Pictures / Supplied.
AT THE MARKET
It's a new day and a new type of raw: the Tsukiji fish markets. From the train station, we follow the crowd and within minutes we're among the lanes and stalls surrounding the market. You can sample, smell and taste prior to buying. We find vendors selling three grades of the finest katsuboshi charcoal-dried bonito flakes, the staple ingredient for all Japanese stocks and miso soup.
On the edge of the market, crowds are queuing to get into the sushi restaurants. This is a must-do when visiting Tokyo. We find a little 12-seater and join Hattori-san, our chef, for the freshest of sushi for breakfast: tuna, sea urchin, mackerel and what could have easily been some New Zealand snapper. It was like it had just been pulled fresh out of the Hauraki Gulf.
Time is running out and I still want to go to an all-time-favourite haunt of mine, Kappabashi, Tokyo's knife district. Here you find handcrafted knives made to order — it's a chef's mecca. At Kama-asa they arrange the blade as you like (Japanese sashimi and filleting knives are left and right-handed due to the single edge blade.) You then choose your knife collar and handle. It's prepared on the spot or you can go bespoke and then the waiting list can be up to six weeks. I can't help myself and grab a new Deba Japanese fish filleting knife ready for some good days of summer fishing.

THE BEST FOR LAST
Two months before leaving home, I asked a Japanese friend to book us a table at Sushi at Taku. With two Michelin stars, it is extremely difficult to get into. Sushi chef Takuya is a master with seasonal fish and traditional techniques on kelp curing in his Omakase (let the chef create) degustation menu.
Kelly and I have Chef Takuya to ourselves while his second-in-command caters for a group of three. The entire counter seats just nine customers.
Over the next few hours we make our way through 21 courses, all perfectly prepared and served directly in front of us. The highlight? A tiny cup of fresh sea urchin uni, a pinch of Hokkaido salt and a few drops of sadachi Japanese citrus, stirred into warm vinegared rice and served. Or the sanma — sardine-like fish in season for three months — lightly scored and served with fresh ginger and kombu seaweed infused soy sauce? Or could it be the . . .?
This is our conversation throughout dinner. Every course feels like the best, until the next is served. It's a memorable meal, up there with our top five. We will back for sure. Not just to Sushi at Taku but to all the other culinary corners we've yet to discover.

Masu by Nic Watt. Picture / Supplied.
• Masu by Nic Watt (Allen&Unwin: $59.99) is a beautiful recipe book with photography by Babiche Martens. It goes on sale Nov 1. Visit Viva.co.nz to try his recipes.
Share this: