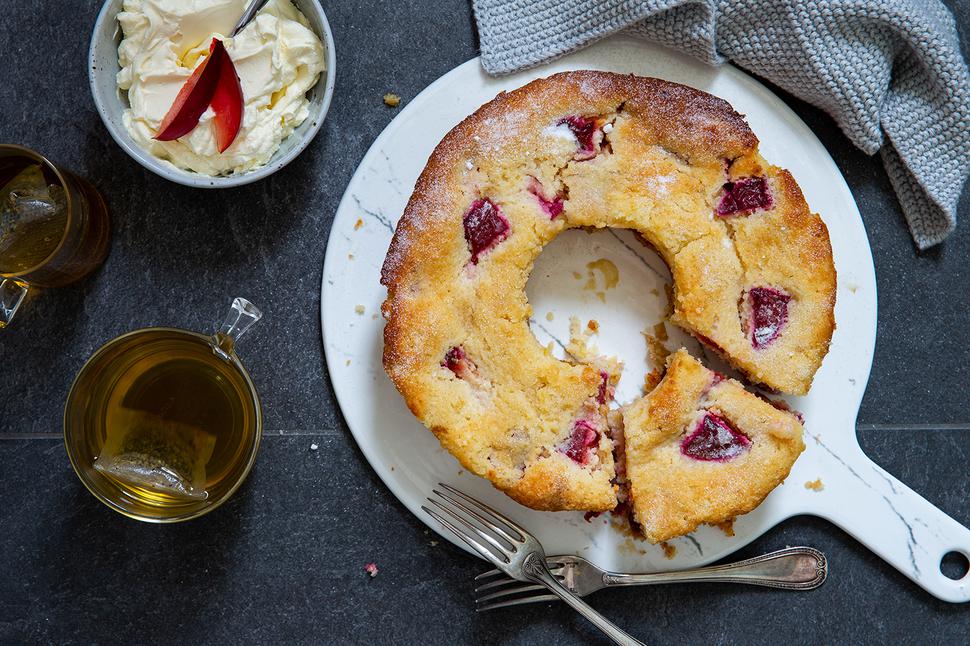 Plum & Lemon Ring Cake Recipe
Surprise friends and family with this delicious morning tea treat
Sunday Jan. 31, 2021
A helpful tip when using chopped fruit in cakes is to toss it in a little flour — the fruit will disperse evenly through the batter. Ring cakes are perfect to serve for a morning tea. Why not surprise your colleagues with a freshly baked treat?
PLUM AND LEMON RING CAKE
Serves 8
2 cups chopped plums
1 tsp flour
80g butter, softened
¾ cup sugar
2 eggs
1 tsp vanilla essence
2 Tbsp vegetable oil
2 Tbsp lemon juice
1 Tbsp lemon zest
1 ¼ cups plain flour
½ tsp baking powder
¼ tsp baking soda
Pinch salt
½ cup ricotta or sour cream
Creme fraiche or cream, to serve
1. Preheat oven to 170C. Grease and line the base of a 24cm ring tin.
2. Place the plums in a large bowl and stir through the 1 tsp of flour.
3. In another bowl, beat the butter and sugar until light and creamy. Add the eggs, beating in one at a time, then the vanilla. Stir through the oil, lemon juice and zest.
4. Add the flour, baking powder, soda, salt, ricotta and plums, combining well. Pour the batter into the tin, smoothing the top. Bake for 50 minutes until the centre is set and a skewer comes out clean. Let the cake cool in the tin before removing and placing on a serving plate. Serve with creme fraiche or lightly whipped cream.
Share this: