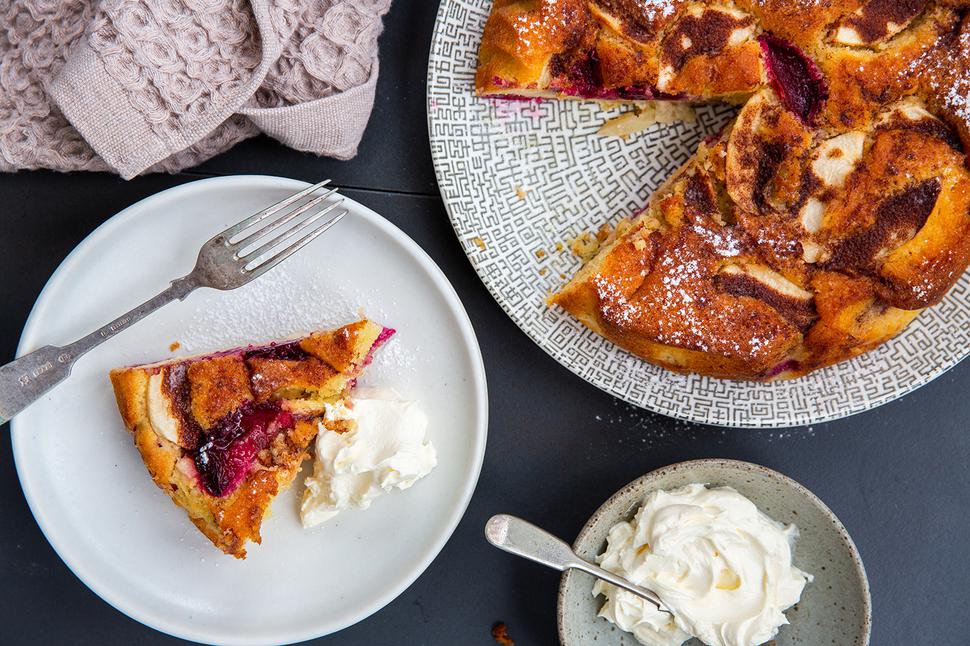 Plum & Apple Cake Recipe
A sweet bake with the perfect amount of plummy tartness
Thursday Feb. 18, 2021
Great for afternoon tea or dessert, this cake is a winner. Tinned apples can be used here, but try to get fresh plums for the recipe. This not only looks beautiful, but it tastes sublime with a little tartness from the plums. This cake freezes well.
PLUM & APPLE CAKE
Serves 8
125g butter, softened
1 cup sugar
3 eggs
80g ground almonds
100g self-raising flour
2 apples, peeled, cored and sliced
4 plums, stones removed sliced
Topping
20g butter, melted
½ tsp cinnamon
1/3 cup demerara sugar
Creme fraiche, to serve
1. Preheat an oven to 170C. Line a 23cm tin with baking paper.
2. Beat together the butter and sugar until light and creamy. On low, add in the eggs, one at a time.
3. Stir through the almonds, flour, 1 apple and 2 plums. Pour the batter into the tin. Place the remaining fruit on the top.
4. For the topping, in a small bowl combine the butter, cinnamon and sugar, then drizzle over the cake. Bake for 50 minutes or until a skewer comes out clean. Cool in the tin before removing.
5. Serve with a dollop of creme fraiche.
Share this: