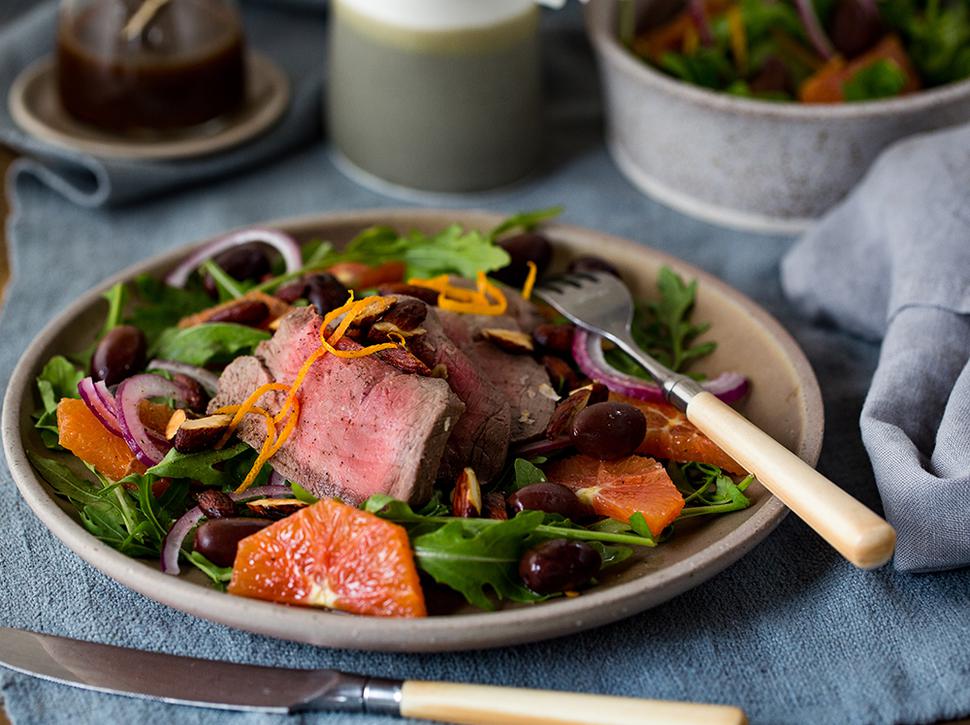 Beef Fillet With Blood Orange Salad
On cooler nights try this soft and tender beef poached in flavoursome stock
Friday April 20, 2018
With the evenings becoming cooler and darker, the barbecue feels out of the question. Instead, try this fillet of beef poached in a flavoursome stock. It's soft and tender when sliced thinly and is simply scrumptious served with some salad leaves, blood oranges and almonds.
POACHED FILLET OF BEEF WITH BLOOD ORANGE SALAD
Serves 4
Beef
2 cups beef stock
1 onion, chopped roughly
1 carrot, chopped roughly
1 tsp peppercorns
1 tsp salt
400g eye fillet of beef

Salad
4 cups salad leaves
2 blood oranges, peeled and sliced
½ cup tamari almonds
½ cup black olives
Salt and black pepper to taste
Dressing
¼ cup olive oil
2 Tbsp balsamic dressing
1 tsp mustard
2 tsp orange zest
1 tsp brown sugar
1. Into a pot that will fit the piece of beef, place the stock, onion, carrot, peppercorns and salt then top up with enough water to cover the fillet. Bring to a rolling simmer.

2. Place the fillet into the pot and cook for 18 minutes (for pink) or 25 (well done). Remove the fillet and allow to sit for 10-15 minutes.
3. For the salad combine the leaves, oranges, almonds and olives in a large bowl. Combine the dressing ingredients in a jar. Toss through the salad. Season with salt and pepper.
4. Serve the salad topped with a few thin slices of beef.
Share this: