Petite Kitchen's Poached Fish in a Summery Soup Recipe
Try Petite Kitchen's recipe for poached fish in a summery soup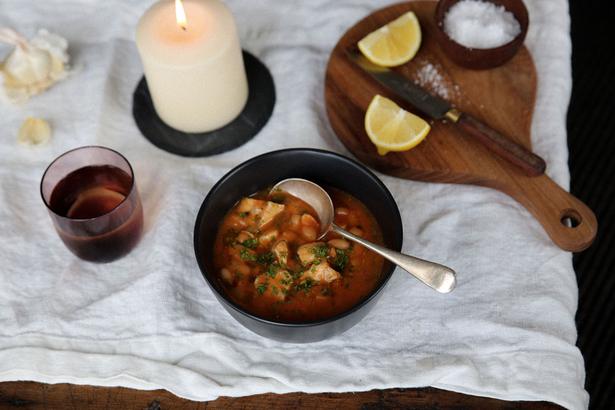 Thursday Jan. 26, 2017
POACHED FISH IN A SUMMERY SOUP RECIPE
Serves 4
The velvety texture of tender, cannellini beans, are rather pleasing in this gentle, summer soup. There's also fresh, bright herbs, and softly poached pieces of fish in a light tomato broth. It's one of those incredibly simple recipes, as mine usually are, a deliciously tasty expression of how I like to cook.
2 Tbsp butter or olive oil
2 Tbsp tapioca flour, or cornflour
¼ cup tomato paste
4 cups good-quality vegetable stock
3 cups cooked cannellini beans, or two cans, drained well
600g white fish, cut into bite-sized pieces
Juice of one lemon
A large handful of flat-leaf parsley and mint leaves, finely chopped 
Salt and pepper
1. Heat the butter or olive oil in a large pot over medium heat. 
2. Add the flour and tomato paste and stir for 20-30 seconds. 
3. Add the stock and cannellini beans, then bring to a soft boil.
4. Add the fish and simmer over low heat until cooked through, about one minute.
5. Remove from the heat and stir in the lemon juice, parsley and mint. Season to taste with sea salt and freshly ground black pepper and serve.
Share this:
More Food & Drink / Recipes