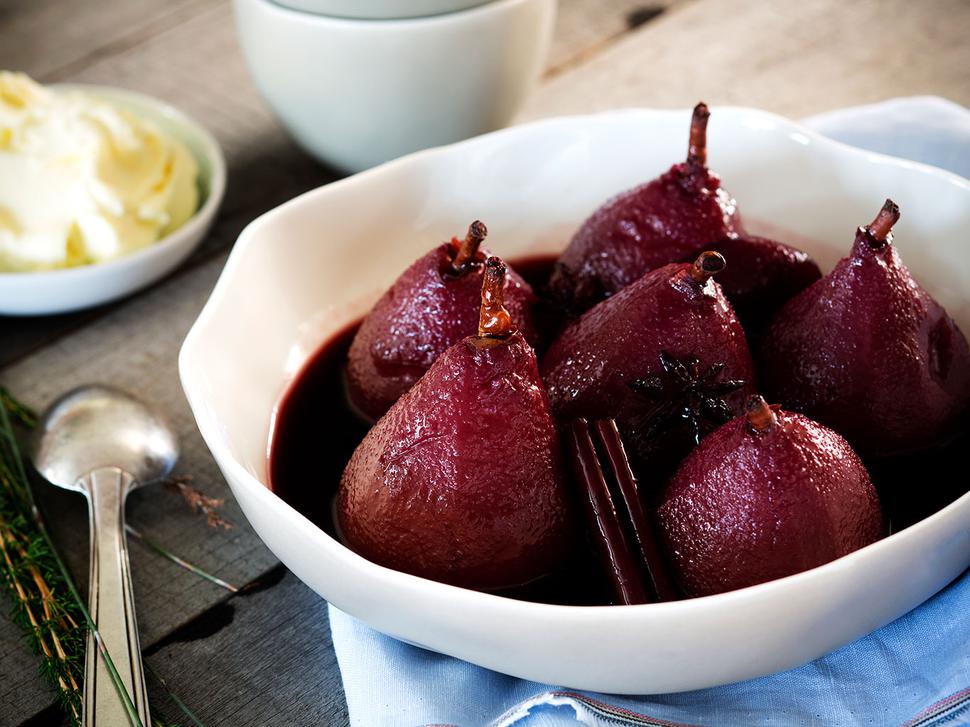 Poached Pears Recipe in Red Wine
Try Angela Casley's delicious poached pears for a classy dessert
Friday May 23, 2014
PEARS POACHED IN RED WINE WITH SPICES
Serves 6
• ½ bottle red wine
• 1 cup sugar
• Zest of ½ lemon
• Zest and juice of ½ orange
• 2 cinnamon sticks
• 2 star anise
• 6 doyenne du comice or other pears
• Mascarpone, to serve
1. Preheat oven to 160C.
2. In a deep ovenproof casserole dish place the wine, sugar, lemon, orange, cinnamon and star anise. Warm through on top of the stove and dissolve the sugar.
3. Add the pears, cover and place into the oven for 1 hour or until cooked through. Test with a skewer. Turn the pears every 20 minutes for even cooking. Remove from the oven and carefully lift the pears out into a serving dish.
4. Place the dish back on to the element and bring the wine to a boil. Let it reduce by half or until syrupy. Spoon over the pears and allow to cool to room temperature before serving.
5. A dollop of mascarpone on the side is just perfect, but whipped cream will suffice.
Share this:
More Food & Drink / Recipes