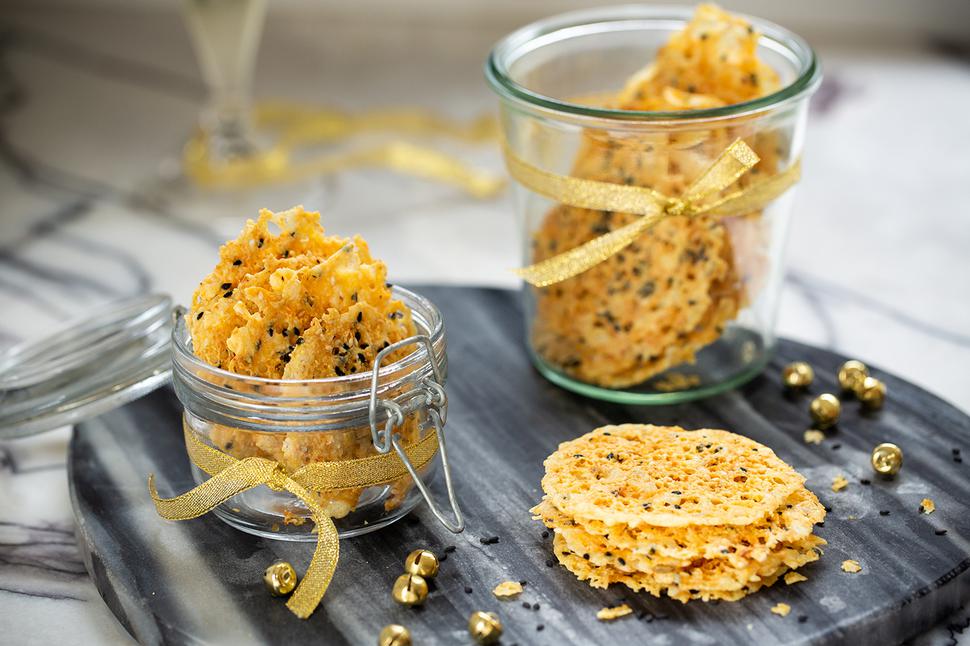 Polenta, Cheese & Sesame Crackers
You can add fresh herbs or seedy mustard for delicious variations of these cheesy, crunchy crackers
Friday Dec. 3, 2021
You can use whatever cheeses you have on hand for this recipe. I've used three types of cheese but a good aged cheddar will work just fine on its own. Split the mixture in half and add another flavour such as fresh herbs or seedy mustard to create a second cracker option.
POLENTA, CHEESE AND SESAME CRACKERS RECIPE
Makes 40
150g aged cheddar, grated
150g smoked cheddar, grated
50g parmesan, grated
1 Tbsp white sesame seeds
1 Tbsp black sesame seeds
2 Tbsp polenta
¼ tsp crushed chilli flakes
Other options
1 Tbsp fresh chopped thyme or rosemary
1 Tbsp seedy mustard
1. Preheat an oven to 200C. Line 2 flat baking trays.
2. Into a large bowl place the grated cheeses, sesame seeds, polenta and chilli flakes, mixing well. Place tablespoons of mixture on to the tray, allowing room for spreading. I usually do about six-eight to a tray. Place into the oven for 12 minutes until golden. Let them rest on the tray for 5 minutes then remove to a cooling rack.
3. Store in an airtight container.
Share this: