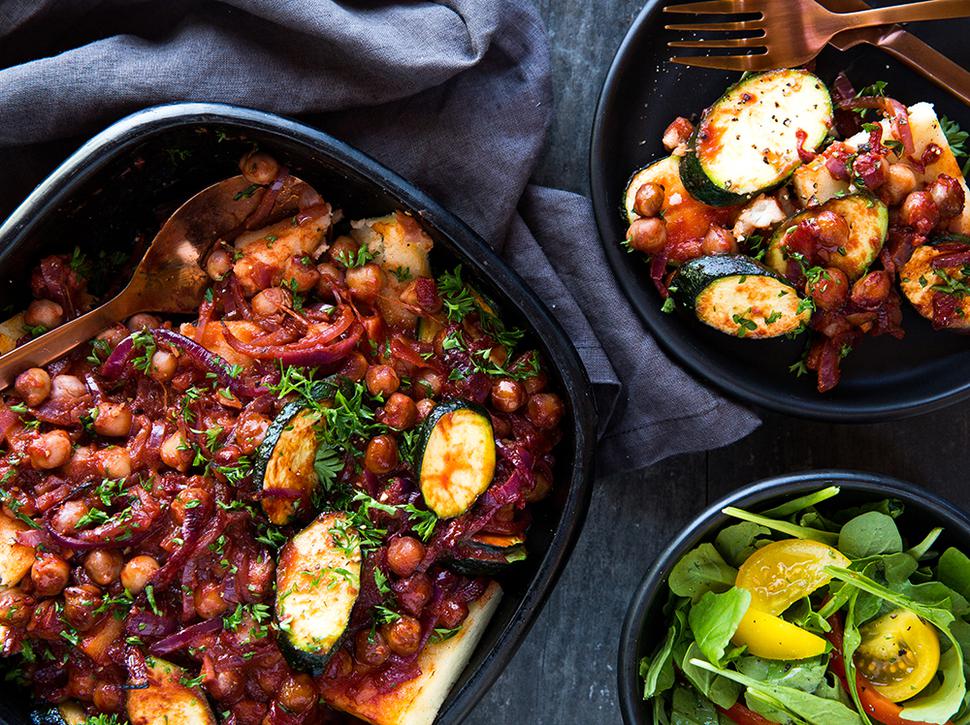 Polenta with Chickpea & Tomato Sauce
Meatless Monday in the household? Look no further than this please-all recipe
Friday April 13, 2018
We are doing Meatless Monday in our house, and this polenta and chickpea bake has been a favourite on the menu. Remember polenta is hot and sticky like porridge and can spit at you, so be careful when cooking. If you pour the tomato sauce over the polenta while hot, dinner will be on the table before you know it. A dollop of Greek yoghurt finishes it off with that delicious tangy taste.
POLENTA WITH CHICKPEA &TOMATO SAUCE 
Serves 4
1 cup instant polenta (yellow or white)
1 tsp salt
2 Tbsp olive oil
1 red onion, sliced
2 garlic cloves, crushed
2 tins chopped tomatoes
2 Tbsp balsamic vinegar
1 tsp dried oregano
1 cup chickpeas, drained and rinsed
1 courgette, sliced
1 cup grated parmesan cheese
½ cup ricotta or yoghurt
1. Line a 20 x 20cm tin with baking paper.
2. Place 4 cups of water in a large saucepan with the salt and bring to the boil. Turn down the heat and pour in the polenta while stirring. Cook for 5 minutes until thick like porridge. Pour into the tin and allow to cool completely. Cut into 5cm pieces.
3. Preheat an oven to 180C.
4. Heat the oil in a frying pan. Add the onion and garlic cooking until softened. Pour in the tomatoes and bring to a simmer for 8-10 minutes. Stir through the balsamic and oregano. Then add the chickpeas and courgette.
5. Place the polenta into an ovenproof baking dish. Sprinkle over the cheese. Pour over the tomato sauce. Place into the oven for 30 minutes until hot and golden.
6. Sprinkle with parsley and serve with a side salad. Add a dollop of yoghurt or ricotta.
Share this:
More Food & Drink / Recipes