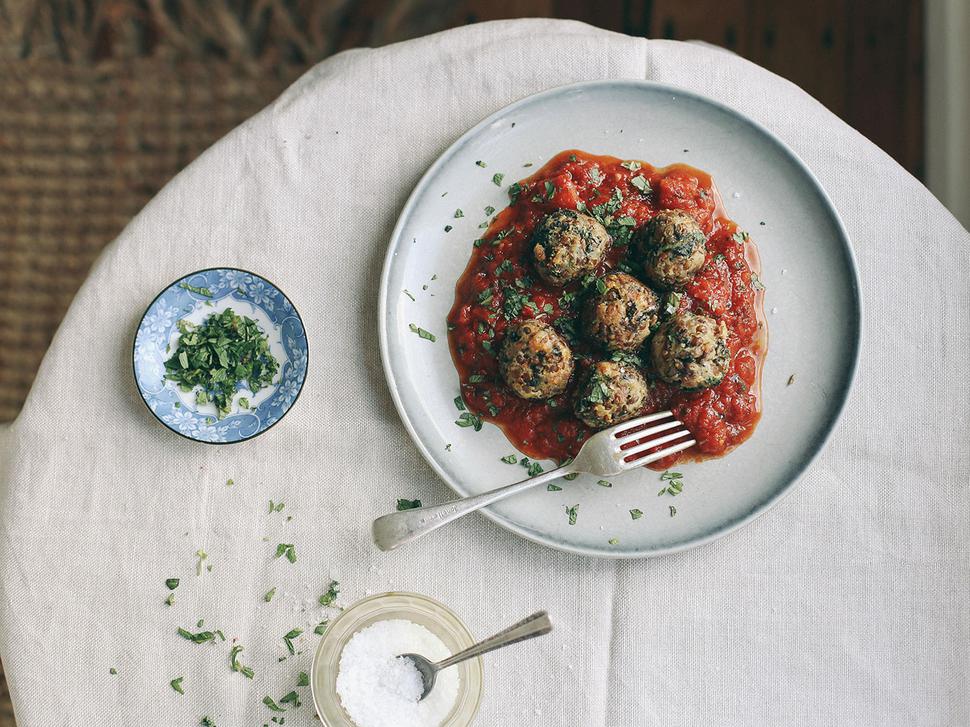 Petite Kitchen's Herbed Green Polpette Recipe
Try this delicious vegetarian alternative to meatballs
Thursday Sept. 17, 2015
You will love these delicate little herbed green "meatballs". Absolutely packed full of flavour, they have a surprisingly light and crispy texture. We like to serve them with a simple mint and tomato sauce, although they are equally delicious tossed with pasta or accompanied by a simple green salad.

HERBED GREEN POLPETTE IN A MINTED TOMATO SAUCE
Serves 4
• 2 Tbsp ghee or olive oil, plus a little extra for frying
• 1 large onion, finely chopped
• 4 cloves garlic, finely chopped
• 1 cup silverbeet, spinach or kale, finely sliced
• 1½ cups lentils, drained well
• 2 cups sourdough breadcrumbs
• Large handful of Italian parsley, finely sliced
• ½ cup grated cheddar cheese
• 2 free range eggs
• 1-2 Tbsp buckwheat flour if needed
• 1 tsp sea salt
• ½ tsp ground pepper
For the sauce
• 1 can chopped tomatoes
• 3 Tbsp extra virgin olive oil
• 1 Tbsp fresh thyme leaves
• 3 Tbsp fresh mint leaves, finely sliced
1. Add ghee or olive oil to a large saucepan or frying pan. Saute onions, garlic and silverbeet over medium heat, stirring frequently until tender, about 5 minutes. Leave to cool.
2. Combine vegetables with remaining ingredients and mix until well incorporated. If mixture feels a little too wet, add a little flour of your choice until mix firms up, one tablespoon at a time.
3. Place mixture in the fridge for about 20 minutes
4. To make sauce, combine all ingredients in a small saucepan and simmer on low for 20 minutes, or until thick and pulpy. Season to taste.
5. Remove mixture from fridge, and roll into small golf-sized balls.
6. Heat a little ghee or olive oil in a saucepan, and grill meatballs in batches until nicely browned all over.
7. Serve with the tomato sauce, and an extra sprinkling of mint if you like.
Share this:
More Food & Drink / Recipes