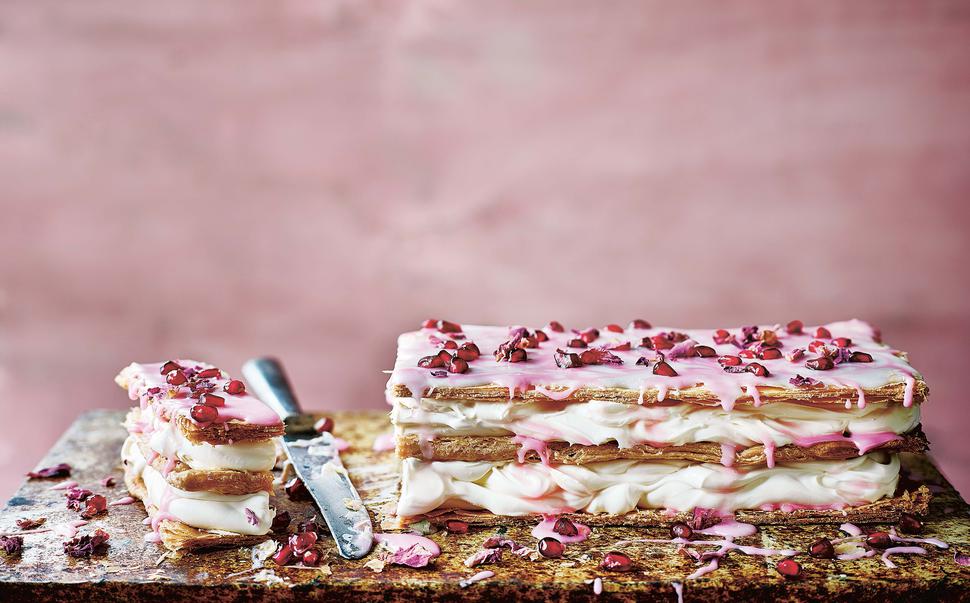 Pomegranate & Rosewater Mille-feuille Recipe
This modern take on the classic French custard slice, flavoured with pomegranate and rosewater, makes a stunning centrepiece
Monday Nov. 20, 2017
During the day, as you wander the maze of little streets that make up the medina of Marrakesh, you will wind up in Jemaa El Fna Square, and when you do, you'll need a coffee and a pastry. Head round the back of Café France to Al Jawda, in the Rue de la Liberté. It's a sophisticated pâtisserie, filled with a fabulous array of sweet treats: coconut cookies, macaroons, date-filled makroots and stunning mille-feuille.
Moroccans love mille-feuille, the classic French custard slice. It's one of the many hangovers from the French Protectorate in Morocco. Today, café culture is rife and families enjoy tucking into tea and mille-feuille for afternoon gossip on the weekend.
My version is slightly more modern, flavoured with pomegranate and rosewater, and made with a mascarpone cream instead of the custard. This really is a stunning centrepiece for an afternoon tea, or swanky dinner party.
POMEGRANATE & ROSEWATER MILLE-FEUILLE
Serves 6-8
320g puff pastry
600ml double cream
200g mascarpone cheese
165g icing sugar
2 teaspoons rosewater
80g pomegranate seeds
1½ tablespoons dried rose petals, to decorate
1. Preheat the oven to 200C (or 180C fan) and line a baking sheet with baking paper. Roll out the pastry into a large rectangle about 30 x 35cm in size. Place on the lined baking sheet and prick all over with a fork. Cover the pastry with more baking paper and top with another baking sheet – this will stop the pastry rising. Bake for 20–25 minutes until golden. Remove from the oven and transfer to a wire rack to cool.
2. Meanwhile, whisk the cream into soft peaks. Add the mascarpone, 65g of the icing sugar, and the rosewater. Fold together until smooth. Cover and refrigerate.
3. Divide the remaining icing sugar between two bowls. Mix one with 1 tablespoon of water and stir into a thick, white paste. Now muddle 2½ tablespoons of the pomegranate seeds and drain off the juice. There should be just over a tablespoon. Mix this into the second bowl of icing sugar to form a slightly thinner pink icing.
4. Cut the cooled pastry into three even rectangles. Place one of them onto a serving board and spread half of the cream mixture over the top. Flatten and even out with a knife. Top with another piece of pastry and smooth over the remaining cream mixture. You can run a knife around the sides and smooth out the cream, so that you have lovely sharp edges if you like.
5. Spread the white icing over the top of the third piece of pastry. Place on the mille-feuille. Using a teaspoon, drizzle the pink icing over the top. Run a cocktail stick around to swirl it and mess it up so you have your very own Jackson Pollock.
6. Scatter over the pomegranate seeds and rose petals. Leave to set for a few minutes, then serve immediately.
Extracted from Orange Blossom & Honey: Magical Moroccan Recipes from the Souks to the Sahara by John Gregory-Smith, photography by Martin Poole & Alan Keohane. Published by Kyle Books, distributed by Simon and Schuster Australia.

Share this:
More Food & Drink / Recipes