Where to Go: The Juniper Room
Prettier than Barbie's house, visit The Juniper Room in downtown Auckland, specialising in gin cocktails and rose champagne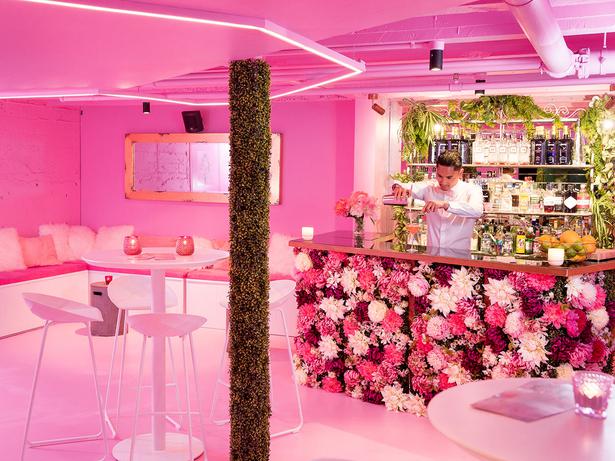 Thursday Dec. 1, 2016
Barbie wishes she had a space in her house as pretty as The Juniper Room, and you can bet she'd knock Ken out of the way to get to a bar as well decked out — and decorated — as this one.
The pop-up, which you'll find in the front room of the The Jefferson whiskey bar in downtown Auckland for the next couple of months, is specialising in gin cocktails and rose champagne, though the menus of each will be available at both.
The two bars, both designed by Paul Izzard, couldn't be more different — The Juniper Room has a summery feel and is bursting with colour (the paint shade is Ballerina Pink), has fresh peonies and lillies, scented candles, lush fake greenery and flowers, and fluffy white cushions scattered throughout, while The Jefferson is masculine and dark, with a late-night vibe.
There will be 400 gins available, 100 at a time, over the next couple of months and owner Ofir Yudilevich recommends trying out collaborating partner Beefeater's premium drop, Crown Jewel, which you can't buy on the market here. He says the Summer of '75 cocktail, with Beefeater London Dry, Maidenii Dry, raspberry and lemonade has proved a hit with the clientele — which has been a good mix of both men and women.
With new gins from all over the world constantly rotated on the menu, it's a good chance to sample a wide range never seen on these shores before, he says. And, as with whiskey, New Zealanders are more than happy to experiment to find out what they like. "People are really open to tasting new gins," he says.
• The Juniper Room is at 7 Fort Ln, Auckland Central. Open Monday to Saturday, 4pm-1am. Visit thejefferson.co.nz
Share this:
More Food & Drink / Wine & Drink