Poppy Seed and Pistachio Honey Cake Recipe
For a chic daytime dessert or celebratory occasion, try this poppy seed cake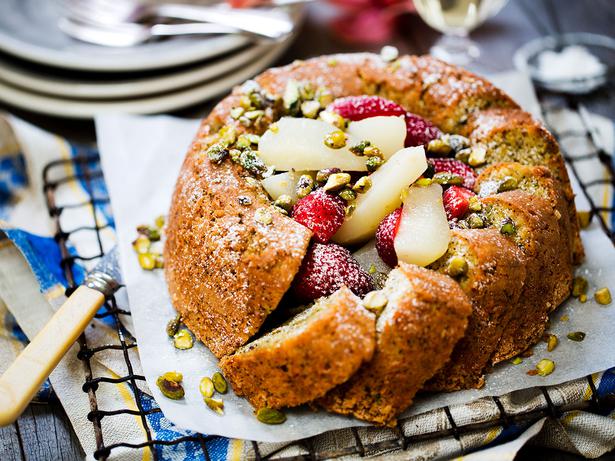 Friday June 23, 2017
For a chic daytime dessert or celebratory occasion, this poppy seed cake is perfect. Add a little extra flash and splendour with some poached pears. I found some sneaky fresh strawberries (imported) which I couldn't resist, but for winter colour add some chopped guava halves or/and kiwifruit.
POPPY SEED AND PISTACHIO HONEY CAKE RECIPE
Serves 12
5 eggs, separated
250g caster sugar
100g shelled pistachios, ground finely
100g ground almonds
1 tsp ground coriander
¼ cup poppy seeds
Zest of 1 lemon
¼ cup self-rising flour
50g melted butter
Fruit
2 pears, peeled, cored cut into 8
Juice of ½ lemon, ¼ cup sugar
1 cup strawberries, halved (if available)
Syrup
1/3 cup honey
2 Tbsp caster sugar
1/3 cup lemon juice
¼ cup water
To serve: ¼ cup lightly toasted pistachios and icing sugar for dusting
1. Preheat an oven to 180C. Grease a 24cm ring tin and line base with baking paper.
2. In the bowl of an electric mixer place the egg yolks and half the sugar. Beat for 4 minutes until light and creamy.
3. Stir through the nuts, coriander, poppy seeds, zest, flour, and butter.
4. In a clean bowl beat the egg whites to soft peaks. Add the remaining sugar and beat until stiff. Fold half of the mixture through the nuts and mix gently with a large spoon. Then add the remaining egg white mixture and combine well. Pour the mixture into the lined tin and smooth the top. Place in the oven for 45 minutes or until a skewer comes out clean. Let the cake sit in the tin for 15 minutes before removing. Place on a rack.
5. Place the pears in a pot. Cover with water, add lemon juice and sugar. Bring to a simmer for 10-15 minutes until just soft. Remove and set aside.
6. To make the syrup — into a small pot place the honey, sugar, lemon juice and water. Bring to a boil then simmer for 4 or 5 minutes. Remove and set aside.
7. Place the cake on a serving plate. Spoon over the syrup. Fill the centre with the pears and strawberries, sprinkle over the pistachios. Dust with icing sugar and serve.
Share this:
More Food & Drink / Recipes