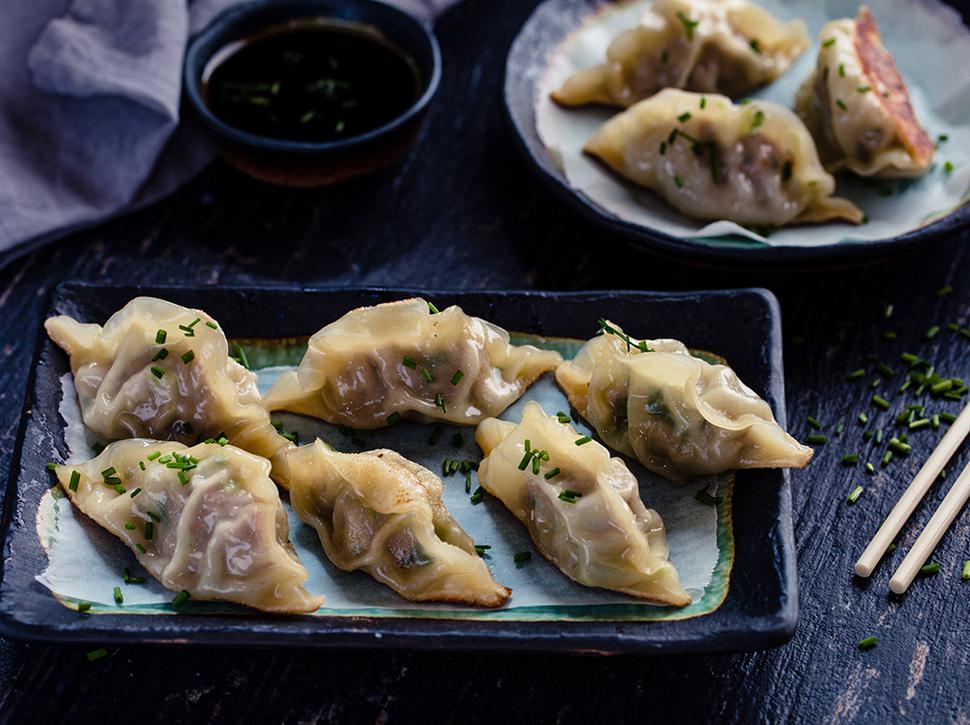 Pork & Chive Dumplings With Chilli Ginger Dipping Sauce
Warning: Once you nail homemade dumplings, nothing else will do
Friday June 29, 2018
The easiest way to cook potstickers is to boil them but frying is worth the effort. Hot and steaming, be careful not to burn yourself as you bite them. Once you have mastered making this dumpling recipe there's no turning back, simply choose your favourite filling and away you go.
Get little fingers at home to help, it's a fun family meal to make together and a thrifty dish to serve to a crowd.
PORK & CHIVE DUMPLINGS RECIPE 
Makes 25-30
300g pork mince
2 cups finely chopped Chinese cabbage
1 bunch chives, chopped (or ½ cup)
1 Tbsp grated ginger
1 tsp sesame oil
2 tsp soy sauce
Pinch chilli flakes
½ tsp salt
25 dumpling wrappers
Sauce
¼ cup light soy sauce
1 Tbsp rice vinegar
1 tsp grated ginger
1 Tbsp chilli sauce
Cooking
2 Tbsp flavourless oil
2 Tbsp water
Extra chopped chives, to serve
1. Combine the mince, cabbage, chives, ginger, sesame oil, soy, chilli flakes and salt in a bowl.
2. Get a little bowl of water ready for wetting the edges of the pastry.
3. With your fingers, dampen around the edges of a dumpling wrapper. Place a large teaspoon of filling in the middle. Bring the edges together, pressing them firmly. Place on a tray lined with baking paper, leaving a space between each so they don't stick together. Continue until the mixture has gone. If not cooking immediately, cover and refrigerate.
4. For the sauce: In a small bowl combine the soy, vinegar, ginger and chilli sauce.
5. When ready to cook the dumplings, heat the oil in a large frying pan. Add half the dumplings (or whatever fits comfortably), frying until golden. Add the water, cover and steam the dumplings for 4 minutes to cook through. It's always a good idea to test one.
6. Serve warm with the dipping sauce and sprinkle over a few chives.
Share this:
More Food & Drink / Recipes