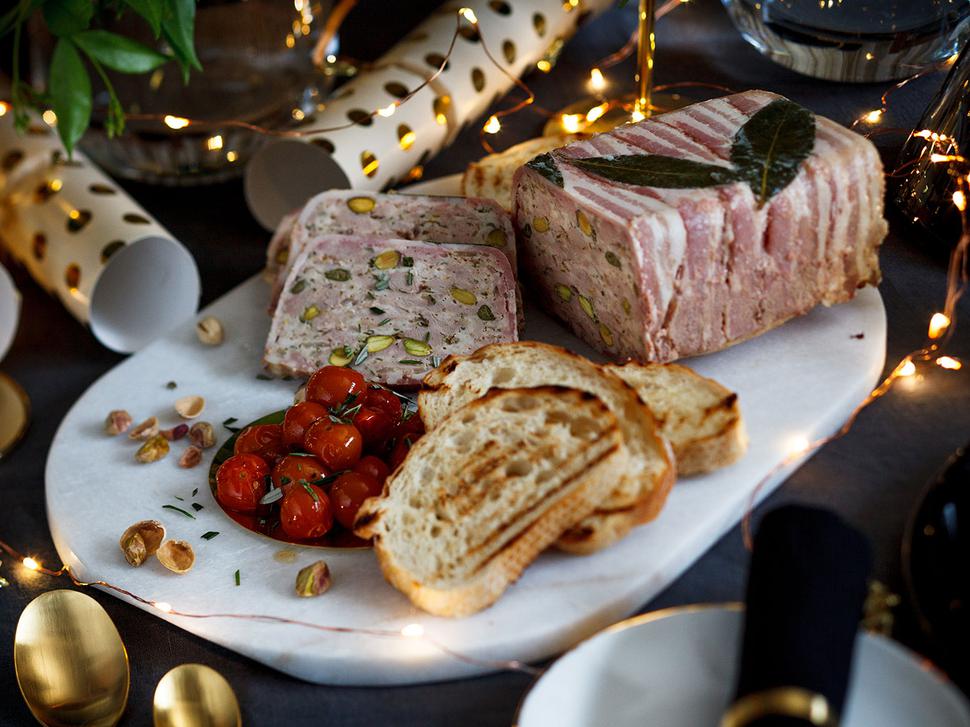 Pork and Pistachio Terrine Recipe
Try Angela Casley's delicious Christmas terrine recipe
Wednesday Dec. 2, 2015
PORK AND PISTACHIO TERRINE RECIPE
Serves 12
• 400g streaky bacon
• 400g pork mince
• 400g chicken mince
• 1 pork fillet, cut into 2cm cubes
• 100ml white wine or port
• 1 small onion, chopped finely
• 2 cloves garlic, crushed
• 1 Tbsp capers
• ½ cup pistachios
• 1 tsp salt and freshly ground pepper
• Crusty bread to serve
1. Preheat an oven to 170C. Grease a loaf tin and line the base with baking paper. Lay the bacon in strips crossing over slightly to cover the bottom and sides of the tin. Leave a little overhang.
2. In a large bowl combine the pork mince, chicken mince, fillet and wine. Let it sit for 30 minutes. Add to it the onion, garlic, capers, pistachios, salt and pepper. Mix well using your hands is best then place it into the tin. Fold the excess bacon to cover the top. Cover with baking paper and tightly with foil. Place into a baking dish, half fill with water and bake for 2 hours.
3. Remove and cool. Place a weight on top of the terrine and chill in the fridge overnight.
Share this: