Pork Bao Buns Recipe
Have your own Asian fusion feast at home and make these tasty pork buns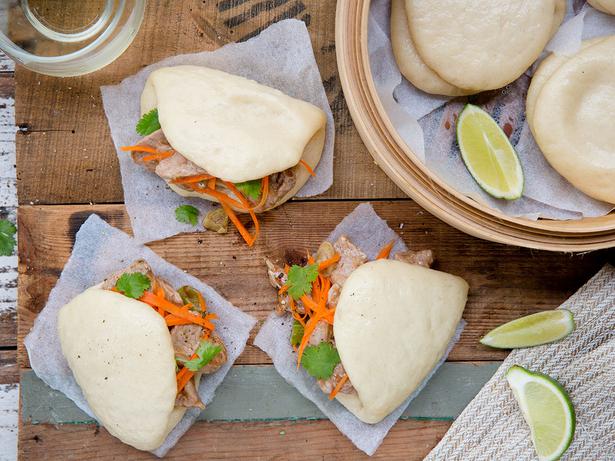 Friday March 31, 2017
I have enjoyed eating bao buns for a few years now around the city, so thought I should give them a go. Just like making a pizza or bread dough, a little time is required to allow the dough to prove. I find the hot water cupboard the best place for this. Once made, fill with your favourite filling. I've used a simple pork fillet sliced thinly and tossed in a hoisin sauce. All ingredients are available in the supermarket.
PORK BAO BUNS
Makes 16
Buns
1 ½ tsp dried yeast
2 tsp sugar
1 cup tepid water
3 cups flour
1 tsp baking powder
1 tsp salt
1 Tbsp white vinegar
2 Tbsp oil plus oil for brushing
Filling
¼ cup hoisin sauce
¼ cup water
1 Tbsp honey
2 tsp sesame oil
1 Tbsp grated ginger
¼ tsp five spice powder
1 tsp cornflour
1 Tbsp oil
700g pork fillet, sliced thinly
1 spring onion, sliced
2 carrots, grated coarsely
2 Tbsp rice wine vinegar
1 cup coriander
1. Sprinkle the yeast and sugar over the tepid water and allow to sit in a warm place for 10 minutes until frothy.
2. Place the flour, baking powder and salt into a large bowl. Add the yeast mixture, vinegar and oil, mixing well to form a soft dough. Knead for five minutes until smooth and elastic. Place the dough into a lightly oiled bowl, cover and place in a warm place for 1 hour or until it has doubled in size.
3. Cut 16 pieces of baking paper 10cm x 5cm. Punch the dough down and roll into a log. Divide into 16 pieces. Roll each piece into a ball. With a rolling bin flatten each ball into an oval shape 11cm x 8cm. Brush each with oil, fold in half and place onto a piece of baking paper, then on to a tray. Cover and place into a warm place for 45 minutes until risen.
4. While they rise make your filling. In a bowl combine the hoisin, water, honey, oil, ginger, five spice and cornflour. Heat the oil in a frying pan to a high heat. Cook the pork in batches until golden and cooked through. Place all the pork back in the pan with the spring onions and sauce. Heat through until the sauce has thickened. Remove and set aside.
5. Combine the carrot and vinegar in a small bowl.
6. To cook the bao buns place a bamboo steamer over a pot of simmering water. Depending on the size of your steamer cook a few buns at a time. Slip the buns and paper into the steamer, cover and cook for 8 minutes. Remove and keep warm while you continue to cook the rest.
7. To serve, open the buns and fill with some pork mixture, carrot and coriander. Eat while fresh.
Be inspired by the good things in life. Sign up now to receive emails from Viva, and twice a week you will be sent the latest news, profiles, videos, fashion shoots, competitions and more.
Share this:
More Food & Drink / Recipes