Barbecue Pork Belly Tortilla Recipe
Get the barbecue up and running with this tortilla recipe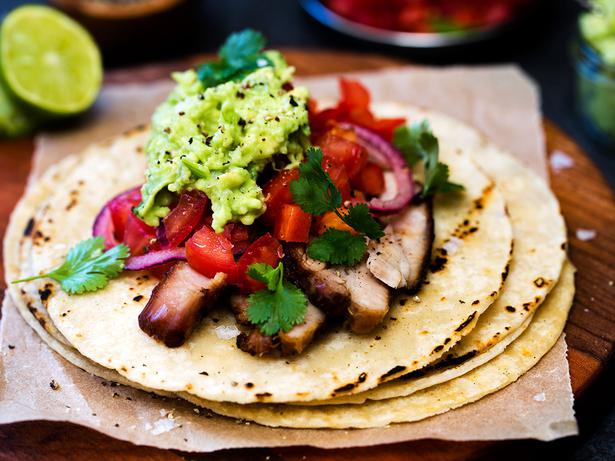 Wednesday Nov. 5, 2014
BARBECUE PORK BELLY TORTILLA
Makes 10-12
Pork belly
2 cloves garlic, crushed
1 red chilli, chopped finely
½ tsp cumin
1 Tbsp oil
½ tsp salt
¼ cup lemon juice
750g piece pork belly
To serve
1 packet Tio Pablo corn tortillas
Extra coriander to garnish
For tomato salsa:
Combine 2 chopped tomatoes, ¼ red onion sliced, 2 Tbsp coriander, ½ tsp sugar, salt and pepper to taste.
For guacamole:
Mash 1 ripe avocado, 2 cloves garlic, ½ chopped green chilli, juice of 1 lime, salt and pepper to taste.
1. In a small bowl combine garlic, chilli, cumin, oil, salt and lemon juice. Remove skin from the pork belly. Rub the meat with marinade and leave for at least 4 hours or overnight.
2. Preheat a barbecue to low. Remove the pork reserving the marinade for basting. Cook pork, covered, on hot plate for 2 hours, turning once every 30 minutes. If you find it getting too dark, place it on a sheet of tinfoil.
3. While it is cooking make tomato salsa and guacamole. When the pork is cooked and tender let it sit for 10 minutes.
4. Heat tortilla on barbecue for 30 seconds each side.
5. Serve the pork sliced on the tortilla with a dollop each of tomato salsa and guacamole.Garnish with coriander.
Share this: