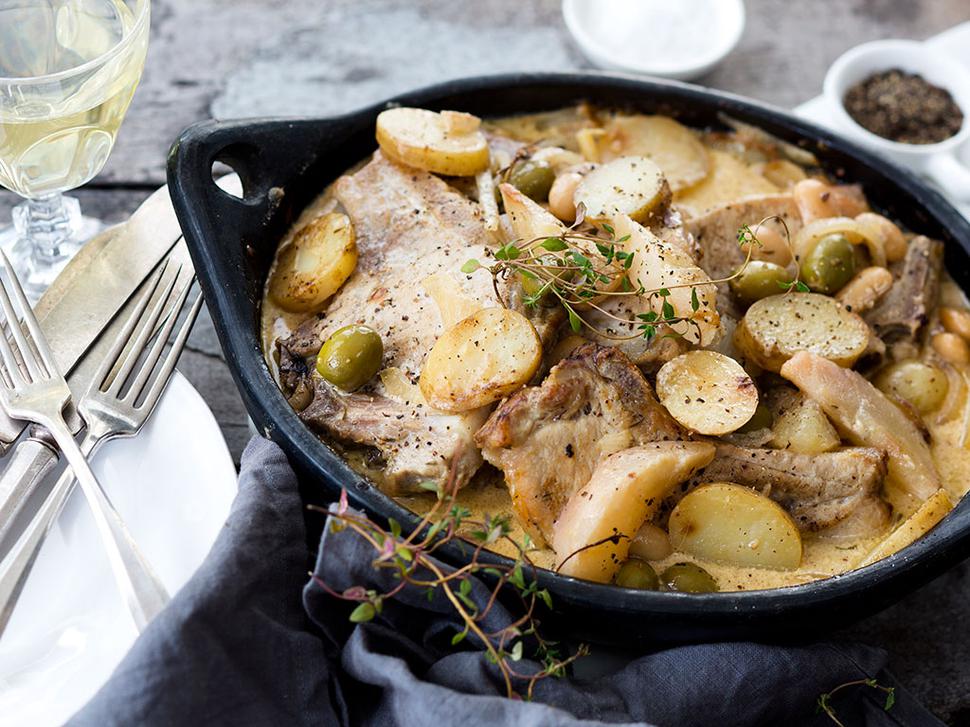 Pork Chops Recipe with Pears and Olives
Try this delicious sweet and salty combination
Tuesday May 12, 2015
PORK CHOPS WITH PEARS AND OLIVES
Serves 4
• 2 Tbsp olive oil
• 4 pork chops, fat removed
• 1 onion, chopped
• 2 cloves garlic, crushed
• 250g small potatoes, sliced
• 2 pears, peeled, cored
• Juice of ½ lemon
• 100g cooked butter beans
• 2 stalks thyme
• ½ cup green olives
• 100ml cream
• Parsley and thyme leaves to garnish
1. Preheat oven to 170C.
2. Heat 1 Tbsp oil in a frying pan. Brown pork chops on both sides. Set aside. Add onion and garlic to pan and brown for 3 or 4 minutes.
3. Add remaining oil along with potatoes and toss until lightly browned.
4. Toss pears in lemon juice. Into an oven proof dish place potatoes, beans, pears, thyme, olives and pork chops.
5. Deglaze pan with cream then pour over pork. Cover with tinfoil. Place in oven and bake for 30 minutes, then remove tinfoil and bake for a further 30 minutes.
6. Serve garnished with parsley and thyme.
Share this:
More Food & Drink / Dinner