Pork Enchiladas Recipe with Chilli Corn
Masterchef winner Tim Read shares a recipe for cheesy pork enchiladas from his recipe book, Gather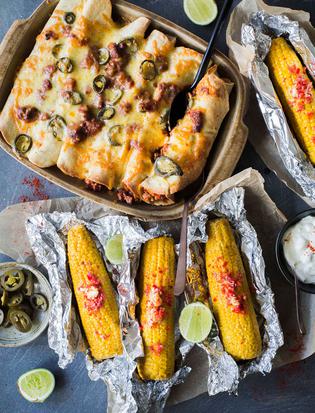 My mouth drools when I think of these cheesy enchiladas; on a good day I'd give the whole lot a run for their money. If you don't like your enchiladas spicy you can trade out some of the chilli for a similar amount of red capsicum, and remember you can always add more sour cream at the other end to tone down the dish. Let me know when you're serving these beauties with the roasted sweet corn, and I'll be over for dinner!
PORK ENCHILADAS WITH CHILLI CORN
Serves 4
• 2 tablespoons oil
• 1 large brown onion, roughly diced
• 3 cloves garlic, roughly diced
• 2 tablespoons plain flour
• 1 tablespoon ground cumin
• 2 tablespoons smoked paprika
• 2 teaspoons ground cinnamon
• 2 red chillies, diced
• 500g pork mince
• 250g chorizo, diced
• 400g can tomatoes
• 2 cups chicken stock
• ¼ cup fresh oregano, roughly chopped
• salt and pepper
• 8 tortillas
• 150g cheddar cheese, grated
• 2 jalapeños, diced (optional)
Chilli Corn
• 50g butter
• 2 red chillies, finely diced
• 4 corn cobs, husks removed
• sour cream to serve
• lime wedges to serve
1. Heat the oil in a large saucepan over a medium-high heat. Add the onion and garlic, and fry for 7–8 minutes or until they begin to caramelise. Stir in the flour, cumin, paprika and cinnamon and cook for 5 minutes.
2. Add the chillies to the pan with the pork mince and chorizo. Cook until the mince is well browned. Add the tomatoes, stock and oregano, then season well with salt and pepper. Bring to a simmer then leave to simmer for 30 minutes.
3. While the mince is simmering, make the chilli butter for the corn. Partially melt the butter in the microwave. In a bowl, combine the chillies and butter with a little salt and pepper. Refrigerate, covered, until ready to use.
4. Preheat the oven to 190°C.
5. Spread the corn with a good dollop of the chilli butter. Wrap the cobs in tin foil and roast in the oven for 30 minutes. Remove the corn from the foil.
6. Using a slotted spoon, place some mince mixture into the middle of each tortilla (don't use it all). Roll them up and place all eight in a baking dish. Spoon some of the mince sauce over the enchiladas and top with the cheese and jalapeños (if using). Bake in the oven for 25 minutes, then remove and allow to cool slightly while the corn finishes cooking.
7. Give each person a couple of enchiladas, top with sour cream and place some lime wedges on the side. Throw around the corn cobs so they're smeared with the chilli butter.

Share this:
More Food & Drink / Recipes