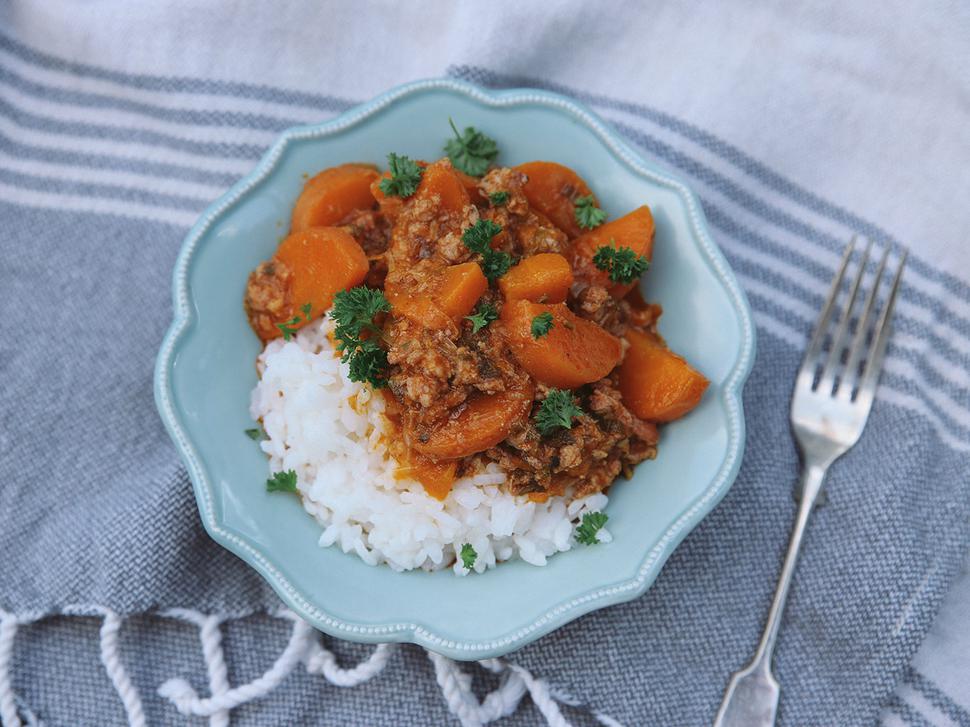 Pork Mince Recipe with Caramelised Carrots
Try this delicious hearty recipe by Eleanor Ozich
Thursday Feb. 18, 2016
An extraordinarily deep flavoured dish, one for when you feel like something rich, bright and earthy. The carrots, sticky sweet and caramelised on the outside, softly yielding within. I prepared this as an early evening family dinner, we spooned it over soft delicate arborio rice and passed around a bowl of roughly chopped parsley for sprinkling.

PORK MINCE RECIPE WITH CARAMELISED CARROTS, SAGE AND SPRING ONIONS
Serves 4
• 3 Tbsp olive oil 
• 1 bunch of spring onions, finely sliced
• 2 carrots, sliced in half lengthwise and then in in to half moons
• 1 Tbsp honey, or any type of liquid sweetener works well
• 1 heaped tbsp tapioca, potato flour or cornflour
• 1 glass of white wine or stock
• 2 rashers of bacon, diced
• 450g free range pork mince
• A large handful of fresh sage, finely sliced
• 3 cups of good quality stock
• Chopped Italian parsley to serve
1. Warm the olive oil in a large heavy bottomed pot over medium heat. Add the spring onions and carrots, then saute while stirring for 2-3 minutes. Add the honey, then continue to cook, stirring every so often for a further 10-15 minutes until the carrots begin to caramelise. You might need to add a little water if the carrots stick to the bottom of the pan. 
2. Sprinkle over the flour, and cook for 1-2 minutes while stirring. Add the white wine and simmer until evaporated. Transfer the vegetables to a dish while you cook the meat.
3. Add the bacon, pork mince and sage to the pot. Cook for 4-5 minutes, while stirring until browned all over. Add the vegetables back to the pot along with the stock.
4. Turn the heat to low, then simmer for 35-40 minutes, or until almost all of the liquid has cooked off and the stew is thick and rich.
5. Season with sea salt and ground pepper.

• For more from Eleanor Ozich see petite-kitchen.com
Share this:
More Food & Drink / Recipes