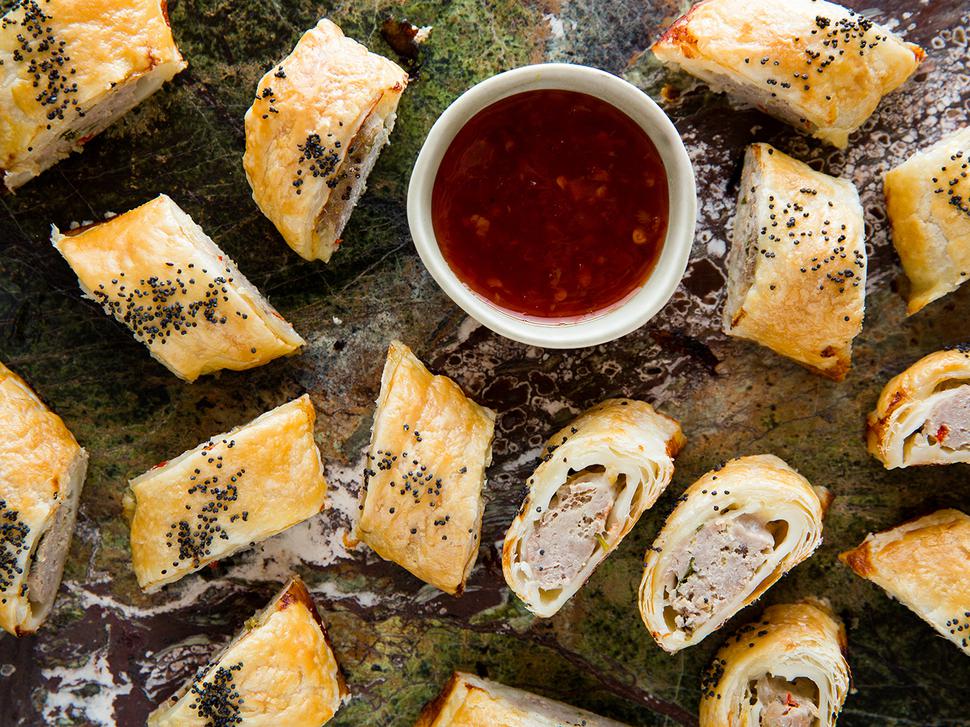 Pork Pastry Rolls Recipe
Nothing beats a good old sausage roll - this homemade version, made with puff pastry, is packed with a tasty savoury Asian filling
Friday Nov. 3, 2017
Take a piece of puff pastry and fill it with a tasty, savoury Asian filling. Hand them out to your guests while they are hot and smelling scrummy. These are super quick to make, and you could even have them in the fridge, ready to cook. I like to cut through halfway before cooking and the remainder once they are cooked. This helps to keep them moist and hold in the flavour.
PORK PASTRY ROLLS
Makes 30
400g pork mince
2 Tbsp grated onion
1 Tbsp grated ginger
½ red chilli, chopped finely
1 Tbsp lemon zest
½ cup chopped fresh coriander
¼ cup fresh breadcrumbs
½ tsp salt and freshly ground pepper
2 sheets puff pastry, cut in half
1 egg, lightly whisked
Poppy seeds to dust
Sweet chilli to serve
1. Preheat oven to 190C. Line a baking tray with paper.
2. Into a large bowl place the mince, onion, ginger, chilli, lemon, coriander, breadcrumbs, salt and pepper combining well.
3. Place the pastry sheets on the bench. Divide the filling between the four halves placing it along the long side.
4. Brush the edges with egg. Roll tightly. With a small sharp knife cut slits through the pastry to form small rolls.
5. Brush the top of the pastry with egg and sprinkle with poppy seeds. Place into the oven for 20 minutes until risen and golden. Remove and cool for 5 minutes, then slice right through.
6. Serve with sweet chilli to dip.
Share this: